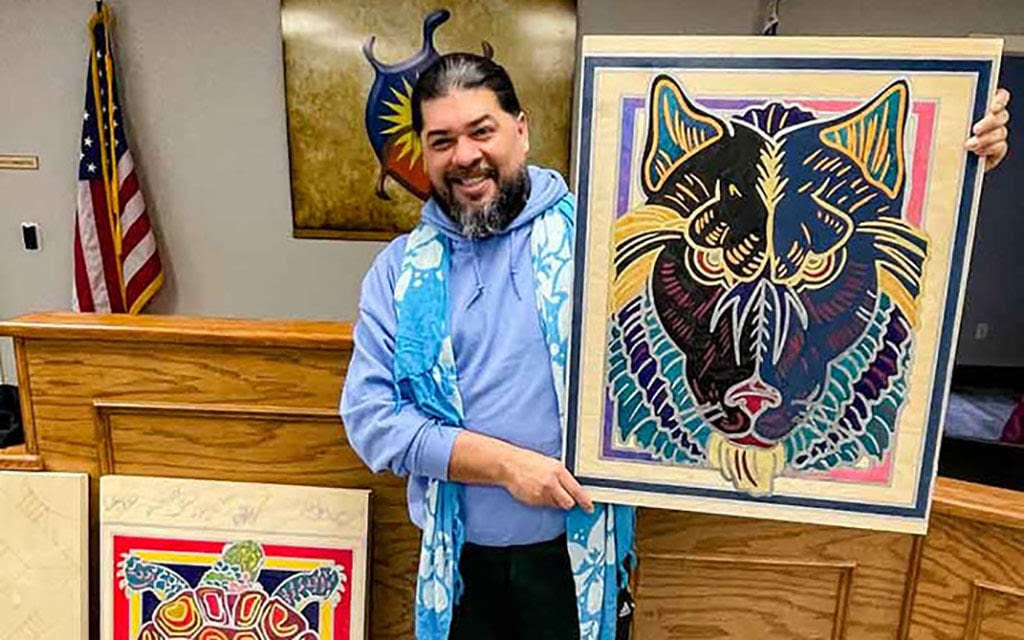 Choctaw artist D.G. Smalling, with some of the art he created to honor the Delaware Nation, said it's time to update the 30-year-old federal law aimed at protecting Native art and crafts. (Photo courtesy the Delaware Nation)
WASHINGTON – Native American artists say they continue to struggle with the theft of their work, and tribal leaders are urging Congress to strengthen the Indian Arts and Crafts Act.
IACA was passed in 1990 to prohibit any advertisement and all sales of counterfeit Indian arts and crafts. Choctaw Nation artist D.G. Smalling says the act must adapt to the new ways of buying and selling art through online sales.
"We have just a very different kind of engagement with intellectual property now," Smalling said. "This is why my principal attorney is an expert in intellectual property. It is to defend what I create and to defend what is mine."
Cherokee Nation Chief Chuck Hoskin Jr. urged Congress to strengthen the IACA during the Cherokee Days in Washington, D.C., this spring. He is working with members of Congress on a proposed the Amendments to Respect Traditional Indigenous Skill and Talent – or ARTIST – Act of 2023.
"We haven't engaged the delegation just yet," Hoskin said. "We will be setting up some opportunities to visit with them. The Senate Committee on Indian Affairs is where this matter sits at the moment. The chair of that committee is Chairman (Brian) Schatz of Hawaii and he and ranking member Sen. (Lisa) Murkowski have asked for input on the ARTIST Act, so that is the particular forum through which we are channeling our advocacy."
The proposed legislation would increase and expand protections on Indian arts and crafts, as well as enforce stricter punishments for those who are selling or making counterfeit goods which could lead to being arrested for the crimes. These counterfeit items are often recreated by non-Indian artists or printed off and seen on portraits, shirts, mugs, online shops and many other places throughout the world.
"The law must be changed in order to protect actual Cherokee artists, artisans, and craftspeople – those who are citizens of one of the three federally-recognized Cherokee tribes – and ensure their arts and crafts are the only works permitted to be presented as Cherokee," Hoskin wrote in a March 29 letter to the Senate Indian Affairs Committee.
Smalling is supportive of Hoskin and other tribal leaders as they push for change.
"They are asking that the law and the act can be adapted for our time and we need to cover all things that are digital, all things that are traditional and analog and we need to have a much more robust set of laws that can then be used to act against those who are chronic violators who profit off of theft," Smalling said.
"I stand 100% with Chief Hoskin and the other tribal leaders who are seeking to defend our right to our own identity on our own terms."
–Cronkite News is partnering with Gaylord News, a reporting project of the University of Oklahoma Gaylord College of Journalism and Mass Communications, to expand coverage of Indigenous communities.