Hi there!

It's with great pleasure that we can announce the date for the next Melbourne Trampoline:
Sunday 9th of October
Where will it be?
We will be returning to the fabulous Circus Oz training space and offices in Port Melbourne. We hope you can make it to join in the fun once more as we share what we find amazing with those whom we perhaps don't normally get a chance to connect with.
When will tickets be released?
Ticket registrations will be available at 11am on Saturday the 10th of September.
How much will it cost?
Instead of asking for donations, this time the first round of tickets will cost $25 each. Like the last time, if you get your ticket quickly, you'll get a second to hand out to someone who hasn't been to a Trampoline before. As always, Trampoline is looking to bring together a diverse crowd who are eager in sharing ideas from a mix of disciplines.
So: Lock in the 9th of October in your calendars. Mark your diary for the 10th of September so you can register quickly and maybe begin thinking about who you might like to bring along or what you may want to speak about this time!
See you soon!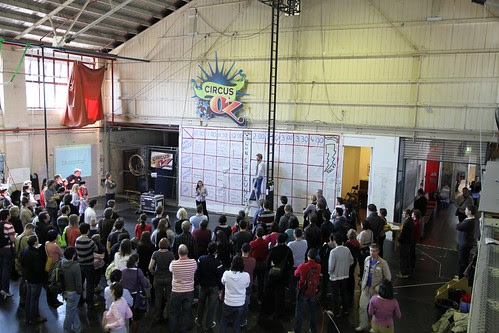 Peace, love and sticky rice.
-- 
Aida and Pat.