| | |
| --- | --- |
| LOSN Sustainability Insider | July 2021 |
LOSN Board Note: This newsletter has been created by our Housing Team.
---
Housing, Land Use and Sustainability: A Vision
If I asked you how the City could make our housing more sustainable, how would you answer? I think most people would talk about incentives for adding insulation, installing double-paned windows, maybe adding solar panels on the roof. Those are all laudable actions but they are still individual actions. Lake Oswego has another tool which could dramatically improve our sustainability: Zoning and Land Use reform.

Land Use regulations within a City have an enormous influence on the sustainability of a City or Neighborhood because they determine where our daily destinations can be located. Have you ever wondered why you can't walk to a bodega on your street corner to buy milk? Or walk to get brunch at a cafe in your own neighborhood? By spreading out our homes and separating them from our commercial destinations, we are forced to get in a car for even the most frequent, basic errands. A more sustainable city is denser with more trips done on foot, bike or transit.

So how can we move in this direction?
1. Upzoning
Today, much of Lake Oswego is zoned for Single Family Home (SFH) only. Upzoning means increasing the allowed density so that property owners may build more housing units. The first step in this process was passed in 2019 as HB2001 and it will soon be law in Lake Oswego. All single family residential Zones must now allow a duplex on every Lot, with some Lots allowing up to four units. Over the next decade, you should expect to see a few older homes in your neighborhood convert to 2-, 3-, or 4-plexes.

Lake Oswego Four-plex
This is great news for sustainability for two reasons: 1) every new household that can be housed on an existing Lot means less greenspace has to be cleared and less sprawl; and 2) increased density means more patrons for local businesses and transit.

HB2001 is really the very beginning of what's possible to make our city more sustainable. The Oregon legislature is already passing follow up bills which add onto HB2001: the recently passed SB458 ensures any Lot with middle housing on it can be subdivided into individual Lots for each unit, meaning half a duplex can be sold rather than forcing the entire building to be sold.
 2. Add an ADU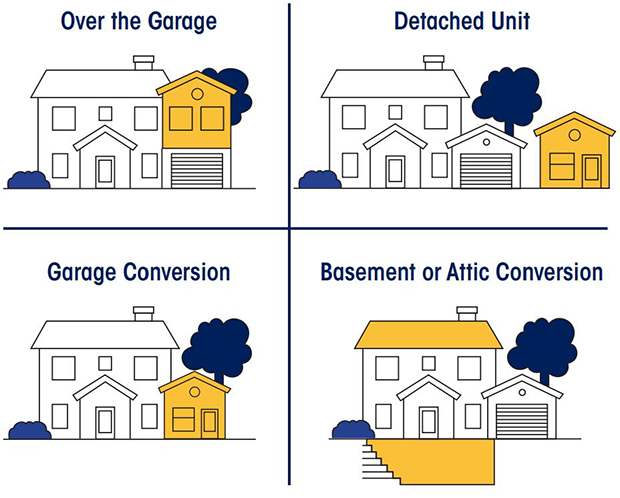 Accessory dwelling units (ADUs) are smaller housing units added to an existing property. They are legal in Lake Oswego today and can be added by modifying a single family home (SFH) or as a separate structure on the property. They have some basic requirements:
No more than 800 sq ft and only one per Lot
Must provide basic utilities: water, sewer and power
May not be used for Short Term Rental (e.g. AirBNB) without additional fees
Fencing may be required if within 10 ft of the property line
An example might be an SFH with a converted basement. ADUs are perfect for older family members, students or anyone who doesn't want the expense and upkeep of a SFH. Read the ADU overview here (and see the article on ADUs in Lake Oswego below).
3. Allow Micro Businesses
Lake Oswego should allow retail ACUs ("Accessory Commercial Units") within existing neighborhoods. With ACUs, property owners can add a commercial extension to their existing home, allowing people to open their own business on their own property which serves people within that neighborhood. Examples might be barber or hair salons, yoga/pilates, coffee, cafes, pizzeria, etc. Imagine if every block in your neighborhood had a micro business. You could have 5-10 businesses within walking distance that can provide for daily errands and socializing!

Read more about ACUs: https://www.strongtowns.org/journal/2020/12/8/best-of-2020-accessory-commercial-units
 

Devitt House in Waterloo, Ontario
None of these suggestions will change Lake Oswego overnight but by easing up on the rules forbidding anything but car-bound single family homes, we unlock the possibility for more walkable, more vibrant Lake Oswego neighborhoods.
---
Affordable Housing on Boones Ferry
In 2018, the City Council learned that Lake Oswego had not built a single unit of affordable housing in the previous decade. The city purchased Lots at West Sunset Dr and Boones Ferry Rd and are rezoning the combined Lots into one parcel to be developed as affordable housing. This rezoning process is nearing completion and, upon finishing the Boones Ferry project, the City will need to sell the parcel for affordable redevelopment. The initial Development Study presented to the Neighborhood Association has roughly 50 units with 68 surface parking spaces and no commercial space. Note that this is just an example study; any development will take years to plan, approve and break ground.
LOSN's take: Parking is a major cost for any development and car maintenance and upkeep is a major expense for someone making less than the median income. We'd like to see fewer parking spaces, more greenspace and bike facilities. If you are living in affordable housing, a $1,500 e-bike and/or $100/mo bus pass is a lot more affordable than a $20,000 car. There is a stop for the #37 bus line and Boones Ferry was just refreshed with new walk/bike facilities; we also hope any redevelopment will bring some ground floor retail space (such as a coffee shop) on-site to serve the residents and the surrounding neighborhood.
---
Lake Oswego is ADU-friendly

by Scot Seigel, Director of Planning, City of Lake Oswego
Did you know that Lake Oswego code has allowed accessory dwelling units (ADUs), a second small home of 800 square feet or less on a single family lot, for several decades? Yet until two years ago only 8 ADUs had been permitted and built? Did you know that since January 2019, the city has already approved 13 ADUs? 

The acceleration in ADU construction no doubt comes from increased knowledge about ADUs (market acceptance) and demand, but the prior slow pace may have been due to the City's former requirements, pre-2019. Previously, ADUs had to receive development review approval through a discretionary land use process that invited conflicts with neighbors.


In 2019, the City changed its code to make the permit process for ADUs "ministerial", or over-the-counter, requiring only building permits for ADU construction. The City Council also passed an ordinance waiving system development fees for ADUs, provided the ADU is not used as a short-term rental, amounting to more than a $20,000 cost savings for homeowners. The City Council also made other ADU code changes to comply with state law, specifically House Bill 2001, which prohibits cities from requiring additional parking for ADUs or requiring that the property owner live on the Lot containing an ADU.

Since these changes went into effect, the number of ADUs built or permitted has increased significantly, which I would attribute in large part to the City policy changes.
---
Reimagining our suburbs
Lake Oswego, like many suburbs, was built on getting around by car. What if that wasn't always the case? Watch this inspiring video with lots of ideas that lead to a more walkable suburb.
Suburbs that don't Suck
---
Upcoming Events
LOSN August Forum: Sustainability and Wastewater Treatment Plants
SAVE THE DATE!
When: Thursday, August 12, 2021
Time:  6:30 pm - 8:00 pm
Where:  on Zoom: Registration link

What does sustainability have to do with wastewater treatment plants?

Plenty! Wastewater treatment plants are often the largest energy consumer in a city. And yet, they can also be an energy source. Sewage can be converted to energy through anaerobic digestion and methane capture. The water can also be reused and an asset to the community. Learn about how a wastewater treatment plant can be a part of the sustainable infrastructure for a city.

And why do we care in Lake Oswego? Lake Oswego is actively exploring rebuilding and managing the Tryon Creek Wastewater treatment plant. Let's make it as sustainable as possible.

Newer technologies make the process more sustainable
Image courtesy of Science Direct
 
For sustainability tech nerds, check out this cool story about Gresham's net-zero wastewater system and think about how far we could go.
---
August LOSN Social Hour
When: Wednesday, August 4, 2021
Time:  5:00 - 6:30 pm
Where:  Lake Theater & Cafe, 106 N State St, Lake Oswego, OR 97034 (map)

Join us for our monthly social hour, first Wednesday of every month! In August we are meeting at the Lake Theater and Cafe. We encourage you to invite friends and family! 
---
Copyright © 2021 Lake Oswego Sustainability Network, All rights reserved.
You are receiving this email because you expressed interest in learning more about the Lake Oswego Sustainability Network

Our mailing address is:
Lake Oswego Sustainability Network