"The one important thing I have learned over the years is the difference between taking one's work seriously and taking one's self seriously. The first is imperative and the second is disastrous."-Margot Fonteyn
Recently got this photo in a
Brahmachaitanya post
:
Was very impressed with the lack of ego of Sri G "GV" Venkannaiah గారు.
His long hands are almost that of an
AjAnubAhu
!
We see a similar a++itude in his demeanor in the Prathistapana function in June, 1949.
He's seated at the right foot of Ketkar Maharaj.
His humility reminds me of 
Balaram Bose
, one of the "providers" of Sri Ramakrishna, who would go and request folks to come along with him (in his conveyance, at his cost) to see the Master.
Without knowing the local language, Sri Venkannaiah spent three months at Jaipur getting the extremely sweet deities and moving them to Chintamani:
When the folks from Gondavali came for the Diamond Jubilee of the Chintamani Mandir in 2009, they were stunned by the sheer beauty of these deities.
Here's another photo from
my visit to Chintamani with my father-in-law last November
: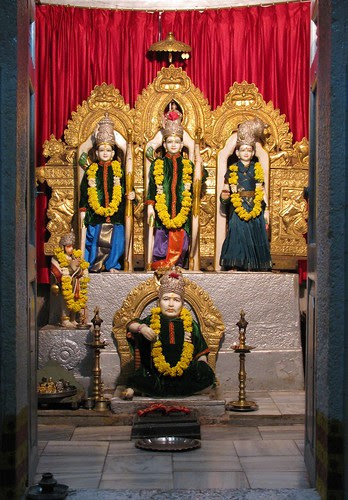 Lots of folks are very surprised to see a temple to Maharaj in, of all places, Chintamani.
That was because Sri Venkannaiah had a vision of the Maharaj: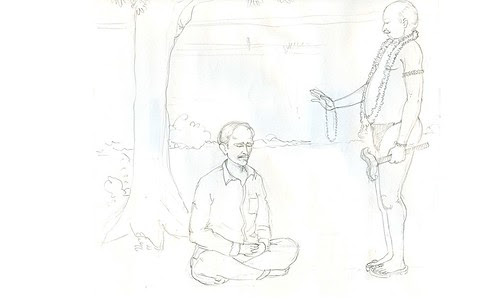 This is a drawing by Sri G.S. Surya Prakash. From
A time to remember a Divine incident - November
:
November 1913. Sri G.Venkannaiah (Founder of Sri Brahmachaitanya Sri Rama Mandir, Chintamani) who was working as a Sub-Oversier in the Public works Dept of the then Mysore State, was called to Gondavale by Sri Brahmachaitanya Maharaj who revealed himself for a moment . Sri G. Venkannaiah who was supervising the construction of a tank in Malligere, a village near Chikkanayakana halli, was sitting meditating during the lunch period near the tank.
Thinking of such inspirational persons makes me cry.