Reni Mimura




---

New York, NY




Pop / J-pop / Dance



What: Reni's Japanese Maid Cafe & Show!!
When: 5/29 Sunday 12PM - 3:30PM
Where: Amber Village 432 6th Avenue (9th & 10th Street), NY, NY
Charge: $15 at Door (Lunch not included) ~*~*$10 in Cosplay~*~*
Group of 5 will get 1 FREE admission!
If you collect 5 stamps, the next admission is FREE!
Note: No age limit


For more Information, 
http://www.renireni.com/



KARAOKE CONTEST!!


If you would like to show your talent, please bring your Karaoke music on CD or USB. The first 5 people will get to sing!!


In order to be accepted as a COSPLAYER, you need to be wearing at least 2 items that can be considered cosplay items or wearing Reni's HEADBAND and/or T-shirt!!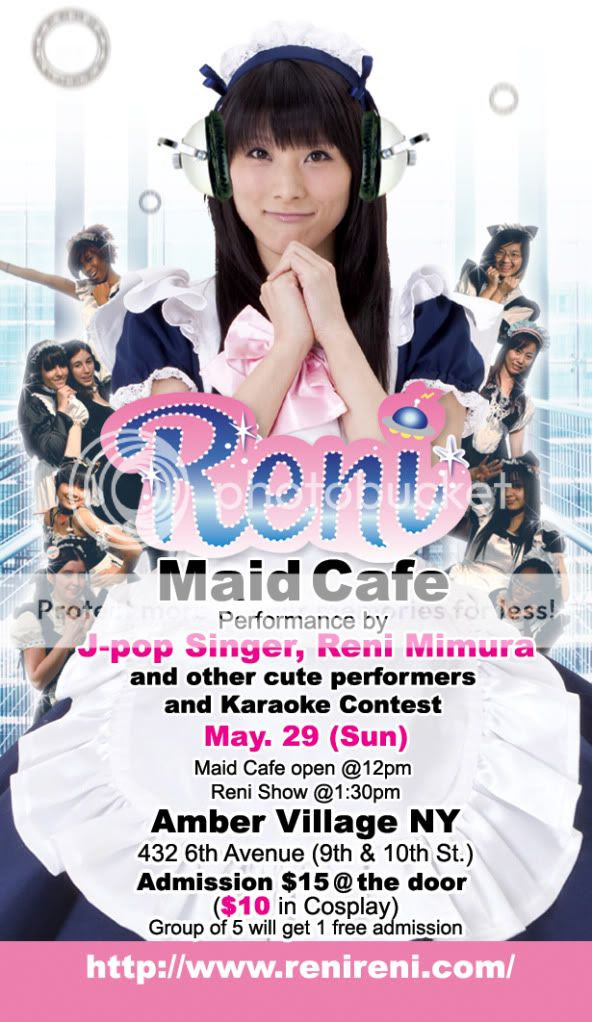 iTunes
 Amazon Mp3
 eMusic
 Napster
 diskfactoryjams
 eBay
 Zazzle
 eBay