Hey!
It's official — you can now get your ticket for RightsCon Tunis (June 11-14, 2019)!
In celebration, we're offering the first 50 people who purchase a ticket an additional 20% off our Early Bird pricing. Use the promo code OFF20 for this limited-time promotion.
In roundtables, workshops, private meetings, and more, RightsCon is the forum where technologists, business leaders, startups, government representatives, policymakers, human rights defenders, and journalists come together to strategize, problem-solve, and drive forward change in the digital age. Learn more about who comes to RightsCon, what you can expect, and what our community achieves together here.
RightsCon Tunis will be the first time our summit is hosted in North Africa. The conference will be a bustling hub, located at the Laico Hotel and the Palais des Congrès, right next to the city's Human Rights Square, and just a few minutes' walk from the heart of downtown Tunis. Check out our interactive map of the venue and recommendations for places to visit here.
Join us while Early Bird tickets last!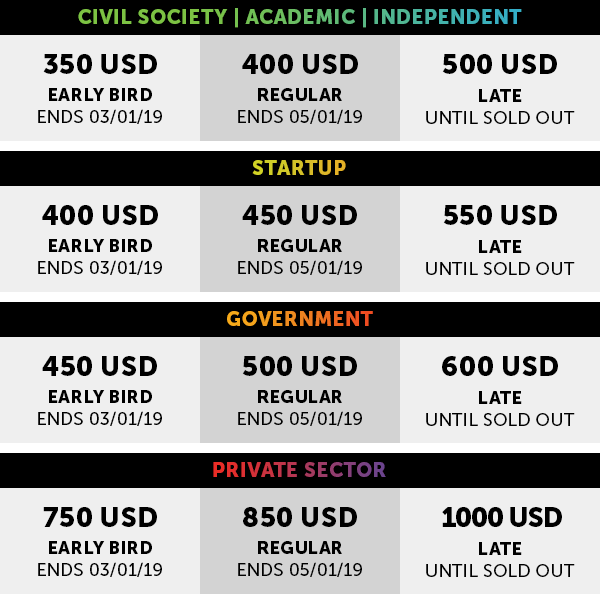 Your ticket to RightsCon is an All Access Pass for three full days of official programming, high-level plenaries, satellite events, food, social and after dark activities, and more. This year, RightsCon Tunis will be home to new initiatives that elevate the participant experience, including translation services, strategic Solve a Problem roundtables, sessions in French and Arabic, skill-building tracks, and a focus on fostering wellness and building resilience. 
Access Now is committed to ensuring RightsCon Tunis is accessible and open to all. You can learn more about our local ticket prices for Tunisians, our inclusive ticket discount policy, group registration, and how to attend as press or volunteer on our website.  
Set the agenda with us
Have your say in shaping the RightsCon program by submitting a session in our Call for Proposals. Hosting a session, organizing a meetup, or delivering a workshop is the best way to showcase your work and engage with participants. Make sure you put your best foot forward by learning more about program categories, session formats, and evaluation criteria in the RightsCon Guide to a Successful Proposal. The deadline to submit is just over two weeks away, on December 14, 2018 at 11:59pm PST.
There's much more information to come, including announcements on speakers, programming, partnerships, and new initiatives. Stay tuned for updates and loop your network into the conversation by sharing this link with them.
Chat soon!
Carolina, Nikki, and the whole Access Now team
P.S. — Each year, we provide travel support to a small number of participants who otherwise would be unable to attend to help ensure representation from as many voices and perspectives at RightsCon as possible. On this #GivingTuesday, if you want to contribute to the Travel Fund, or know someone who could, you can do so here.