February 28, 2013
RFP Update

The Board of Selectmen approved the final RFP for the Lexington Community Farm at their meeting Monday evening. From the brief discussion at the Selectmens' meeting, it appears that the RFP incorporates some of the important public comments on the initial draft.  In particular, it contains a greater emphasis on the benefits the farm would bring to the community and enables the Selectmen to appoint a committee that will oversee the Community Farm.
Now that it has been approved, we expect the RFP to be issued and advertised within two to three weeks. The response will be due 60 days later, and we expect a decision by early summer.
News from the Goat Yard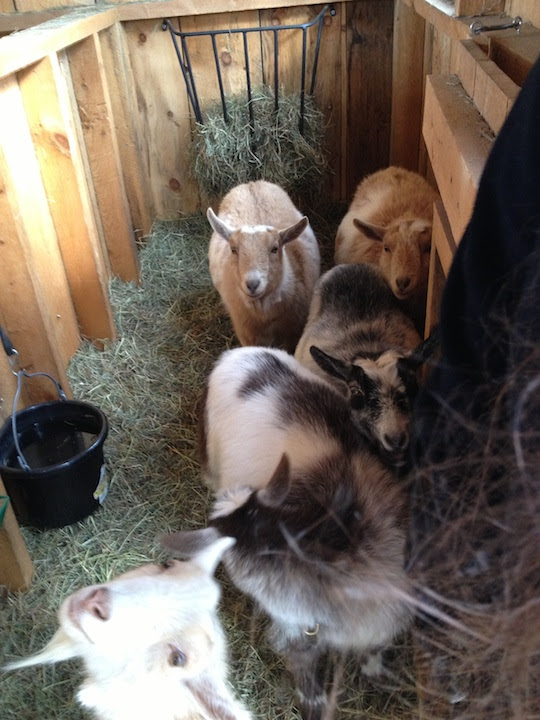 How well do you know our goats? Can you tell who's missing from this photo? Who's that in front looking up at the camera. And can you tell which one Naya is? (Hint: she's expecting new kids in May).
Now that much of the snow has melted and the yard is more accessible, you can re-acquaint yourself with the herd! The
LexFarm Goat Yard
will be re-opening for public visiting hours, this
Sunday, March 3 from 1 - 3 pm
. We hope you'll come visit!
  Be sure to wear boots
and bring along some pine branches for some very "Grateful for Greens" goats!
Farm History Panel
Sunday, March 17th, Science Lecture Hall, LHS, 1 - 3 pm

Get your Golden Ticket and don't miss it!
LexFarm member
Carolyn Goldstein
has organized an incredible panel of speakers for
Sunday, March 17th
, for
Lexington's 300th Anniversary Incorporation Weekend Celebrations
.
The panelists will include
August "Gus" Schumacher, Jr.
who grew up on a farm in Lexington, served as Commissioner of Food and Agriculture for the Commonwealth of Massachusetts, and currently serves on the 21st Century Sustainable Agricultural Task Force of the National Academy of Sciences. 
You can read more information
here
, but this is a not-to-be-missed event and we are expecting a full house at the Science Lecture Hall at LHS on that day. Lexington residents can purchase a "Golden Ticket" at the
Town Clerk's office
for
$1
that will guarantee a seat.
We hope to make some Golden Tickets available for LexFarm members as well. (Members stay tuned!)
LAST CHANCE for Eating with the Ecosystem!

February 28, nourish Restaurant, Lexington, 6 - 9 pm
Tonight's the night!
Reservations:
(781) 674-2400
Don't miss out on this wonderful opportunity to dine on the FIRST Boston Eating with the Ecosystem Food series! 
This series was first initiated in Rhode Island as a community-based effort to support local, sustainable seafood and has since made its ways over to Boston. 
nourish Restaurant
will be hosting the first part this evening,
Eating with the Ecosystem Boston sustainable seafood series
and will serve a spectacular and unforgettable dinner featuring seafood from Southern New England waters, from Buzzards Bay to Long Island Sound.  You'll also get to learn more about the difference you're making eating local seafood from scientist
Nathan Rebuck
and fisherman
Katie Eagan
, and the impact it has on our delicate ecosystem.
Future dinners include
"Gulf of Maine"
on
March 26th
at
The Local Table
in Acton and
"Georges Bank"
at
Ten Tables
in Jamaica Plain. 
The dinner at nourish is the first of the series and the most affordably priced at $30 per person. Reservations can be made through the restaurant at
(781) 674-2400
.
Farm to Lectern Speaker Series with Brian Donahue
March 7, Concord Museum, 7 pm, free admission

Join the Concord Museum in its lecture series to hear farmer, author, co-founder and former director of Land's Sake in Weston, Brian Donahue will be discussing his recent book, The Great Meadow:  Farmers and the Land in Colonial Concord and Reclaiming the Commons:  Community Farms and Forests in a New England Town, in addition to sharing his views on farming and agriculture in New England.

Refreshments from The Concord Cheese Shop will also be provided at this event.  For more information, please visit http://concordmuseum.org/visit/calendar.html or call the Concord Museum to make reservations at 978-369-9763, ext. 216.

Community Conversation on Climate Change

We saw a number of LexFarm members at Tuesday's "Community Conversation" on Lexington's readiness for Climate Change. It was a great chance to meet others interested in the topic, and brainstorm all sorts of ideas. There will be follow-up articles in the Colonial Times newspaper, and we expect lots of ideas to take root...stay tuned!
The planning committee for this second annual Community Conversation included members of the following Lexington groups: the League of Women Voters; the Global Warming Action Committee; Citizens for Lexington Conservation; Sustainable Lexington; LexFarm; the Planning Board, and the Town Manager's office.
---
Membership Corner
Meet LexFarm Member Rick Abrams "ACROSS Lexington"

We are extremely grateful to all those who support our work through LexFarm membership. As you might expect, our members are doing all sorts of great work in the community, and we like to highlight this work when we know about it.
We want to tell you about an exciting project in Lexington spearheaded by LexFarm member
Rick Abrams
called "ACROSS Lexington", a project to build a town-wide network of paths and trails to connect public lands, including recreation areas and conservation land.
A
Pilot route
is now available and Rick will be leading a
two-hour walk on that route on Sunday, March 17th
at
10 am
as part of Lexington's 300th anniversary Incorporation Weekend. In addition, Rick has gifted the town with a special fund in his honor upon retiring. This fund will specifically help Lexington realize this wonderful project. Thank You, Rick!
We would love to count you among our members! You can join today by visiting
lexfarm.org/membership
---
Wild Edible Plant Series
This series covers wild edible plants found in New England as told in Russ Cohen's book, "Wild Plants I Have Known... and Eaten."  If you haven't had the chance, take some time to read this delightfully informative book to find out more on wild plants for sustainable eating.

Note:  If you are unfamiliar with harvesting wild edibles, please consult a plant expert before attempting to forage on your own.

Part Ten: Juneberry
(Amelanchier canadensis)


The juneberry plant is named so because the berries of the plant start to ripen throughout June, which occur about six weeks after they start to flower.  It is also referred to as the shadbush because its five-pointed, white petaled flowers start to bloom around the time shad fish swim upstream to reproduce.  It's other nickname, the "Serviceberry" tree, is thought to be derived from the use of its branches for decorations at Easter time, while others believe the plant, when in bloom, served as a sign that ground soil over the winter was soft enough to dig up for burying the deceased.
The way to tell a juneberry tree is by its smooth, gray bark, it's great height of 12 inches, and it's wide, ridged, bright green leaves.  Juneberries can grow in very high, hard-to-reach parts of the tree and are enjoyed by birds as well.  They are commonly found by rivers and lakes, and because of their attractive appearance, they are also commonly grown in parks and other landscaped areas. 
Juneberries are very similar in appearance to Highbush blueberries, except that they turn a reddish-purple when fully ripe.  While juneberries are tasty to eat, resembling the taste of cherries and almonds combined, they are often afflicted with a fungus of a Cedar-apple rust variety, covering the tree with fungal growths and causing the berries to appear misshapen and to ripen irregularly.  When healthy and ready for consumption, they can be plucked and eaten from the tree (if you can reach them), brought home for drying, or blended with more pungent-flavored berries for pies, as they can be mild in flavor when cooked.  As a food source, they are known to be high in iron, potassium, magnesium, and phosphorus, in addition to having somewhat higher calorie- content than their blueberry counterparts.  Native Americans had often dried juneberries for making Pemmican (a type of granola bar), as a low-perishable food source to last them through long journeys. 
---
Further Thinking
Brickyard Educational Farm is an educational vegetable garden with a mission to provide hands-on learning experiences for the children of Montgomery County Maryland.  Learn more about them by watching this video.  Also, be sure to check out "Save this Soil" in the online magazine Food Tank to learn how this citizen campaign convinced town officials to give up plans to convert their farm into soccer fields.

---
We welcome your feedback
Please write us at newsl...@lexfarm.org with all feedback regarding the Update or if you have suggestions for area events that we can announce.

Jeanne Lin and Allison Moody