October 11, 2012
Local Fish & Wine Dinner at nourish
� Tuesday, October 16th, nourish, 6-9 pm

We can't think of a better way to spend an evening than sampling local wines and enjoying a dinner of freshly caught local fish, while learning about the challenges of growing grapes, and making a living off the ocean from the people who do the work! We also can't think of a better venue than at
nourish
restaurant, where owner
Karen Masterson
has been so supportive of LexFarm's work.�
The event will run from
6 - 9 PM
on
Tuesday, October 16th
. Tickets purchased in advance are only $50 per person at
namanet.org
. You can also buy a ticket for $60 at the door on the day of the dinner.� For more information, you can call the
Northwest Atlantic Marine Alliance
at
978-281-6934
or call
Karen
at
508-641-0878
.
Food Day 2012- October 24th�

Food Day is a nationwide celebration and a movement toward more healthy, affordable, and sustainable food.
The Second Annual Food Day
takes place on
Wednesday, October 24th
to address issues as varied as health and nutrition, hunger, agricultural policy, animal welfare, and farm worker justice. The ultimate goal of Food Day is to strengthen and unify the food movement in order to improve our nation�s food policies. You can join this push for a stronger, more united food movement by attending a Food Day event in our community. Many schools in the area are using the day to improve the school lunch offerings and highlight healthy eating.�
Here's a list of just some of the events open to the public that you might want to attend (please note- not all take place on the 24th):
October 20,
1 - 4 pm, Lincoln:
Food for Thought Workshop and Farm Tour
with The Food Project (
free
)
October 20,
2 - 3:30 pm, Cambridge:
Didi Emmons: Chefing for The Greater Good, How One Chef has Forged a Path in Public Health
at Le Cordon Bleu College of Culinary Arts (
free
)
October 21,
2 - 5 pm, Boston:
Food Day Swap
with Boston Food Swap (
free
)
October 23,
5:30 - 7 pm, Wellesley:
Entrepreneurship and Innovation in the World of Food
at Babson College (
free
)
October 24
, Cambridge:
Harvard Square's 20 Mile Radius Restaurant Challenge
October 24,
4 - 5 pm, Brookline:
Secrets of the Vegetable Mom
(
free
)
October 24,
6:30 - 9 pm, Waltham:
Waltham Fields Farm Benefit Dinner
at The Elephant Walk (
$45
)
Goat Yard Open Every Sunday

��� Every Sunday, LexFarm Goat Yard, 3 - 5 pm
Stop by the Goat Yard this Sunday (weather permitting) during visiting hours and see what Ionia and the kids have been up to.� Free for LexFarm members and Goat Yard Adopters.�

Bring acorns if you can!
"If These Walls Could Speak�" The Jacob Whittemore House

What was it like to operate a farm in Lexington in the 18
th
century?
�
On Sunday, October 7, LexFarm members and guests recently had an opportunity to explore this question with
Polly Kienle
,
Ranger at Minute Man National Park
.
�
Kienle has been researching the history of the Jacob Whittemore House, constructed around 1717, which is located in the park on the western edge of Lexington.� In her program, she shared with participants many of the historical documents she has found and invited us to investigate them to bring the Whittemore family to life.�
As one group studied the home�s physical structure to see how it had grown over time, others studied the family structure, and read the will of Nathaniel Whittemore, �yeoman and physician,� dated 1754.� Nathaniel left the bulk of his �home place� or 114 acres to Jacob, his youngest son�more than enough land for a sustainable farm at that time; his eldest son Nathaniel received less than half as much.�
Farming, we learned, was so difficult in the New England ecosystem, that older generations developed a tradition of giving land to the youngest son so that he would have enough time to make it productive.
Even so, another group examined a tax assessment and an inventory of Jacob Whittemore�s household goods and determined that, by the 1770s, Jacob was struggling to make a go of it.
We�d like to thank Polly Kienle and LexFarm member Carolyn Goldstein for working to offer this program through LexFarm. We look forward to continuing to bring more farm history programs like this to you in the future!
Wild Edible Plant Series, Part One: Groundnuts

This series will cover wild edible plants found in New England as told in Russ Cohen's book, "Wild Plants I Have Known... and Eaten."� If you haven't had the chance, take some time to read this delightfully informative book to find out more on wild plants for sustainable eating.


Note:� If you are unfamiliar with harvesting wild edibles, please consult a plant expert before attempting to forage on your own.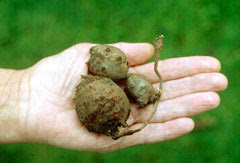 The groundnut (
Apios Americana)
is a vining plant with chocolate-colored blossoms that look similar to those of peas and bean plants.� The edible part of the plant, in addition to the bean pods it produces, are its tubers, located 2-3 inches below ground level.�
Groundnuts were crucial to the survival of original European settlers during their first winter in the New World.� They even found it to be such a reliable food source, that attempts were made to grow and domesticate them back in Europe, yet were unsuccessful.
You can find groundnuts in damp, sandy soil where they can be harvested any time of the year when the ground is not frozen.� Groundnuts are high in protein and can last for up to a month when refrigerated.� Though these tubers are edible raw, they are tastier when cooked.� It is important to note that since they are related to peanuts, they may cause an allergic reaction for some.
---
Membership Corner
Show Your Support, Become a Member
A donation of
$20.00 for an individual membership
or
$35.00 for a family membership
will help us meet our current expenses and plan for the future.� You can sign up online
here
or send a check payable to
Lexington Community Farm Coalition
at
P.O. Box 554, Lexington, MA 02420.
If you have any questions, contact Brenda Netreba at
membe...@lexfarm.org
.
---
Further Thinking
As an example of "thinking outside the box," Silicon Valley restaurateur Kimbal Musk has developed a new, cost-effective product for creating school learning gardens that doesn't require raised beds.� Read more about it here in the Washington Post.�

---
We welcome your feedback
Please write us at newsl...@lexfarm.org with all feedback regarding the Update or if you have suggestions for area events that we can announce.

Jeanne Lin and Allison Moody