May 23, 2013
Last Week to Pledge for the Community Farm!


A big thanks to everyone who has responded to our appeal for financial support to build the Farm!  This month, nearly 100 friends have given LexFarm their vote of confidence and generously pledged over $16,000.
Help us reach $20,000
and demonstrate strong community support by the time we submit our bid on June 3rd. If you pledge by May 31st, we will list your name in the proposal.
There is only one week left in this pledge drive.
Please read more and Pledge NOW to Build the Farm!
  Help us do this important work!  
Goat Yard Update

At two weeks old, Naya's three kids are healthy and adorable, spending short periods of time outside playing, gamboling about, and even practicing their nascent head-butting skills.  Provided they stand still for long enough, you can identify them by their size and markings:
Snoopy
(left) has the single spot on his back;
Lilac
(middle) is the smallest and mostly brown doeling.
John Snow
(right) is the one who is mostly white on his back and hind legs. (See if you can identify them as they run around in
this video
.)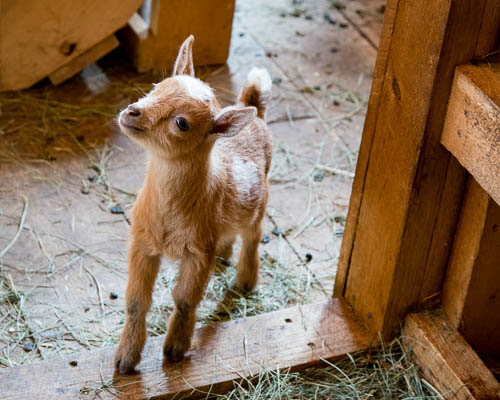 Goat note: It appears that humans aren't the only ones who use "baby talk" - close listeners may notice that Naya's bleats to her kids are different from the typical adult vocalizations.
The Goat Yard will be open on
Sunday, May 26th
for visitors from 1 - 3 pm; LexFarm members free; we suggest a $5 donation from others.
"Let's Get Growing"

Thursday, June 6, Busa Farm, 1 - 3 pm

Come and bring your children to Busa Farm on
Thursday, June 6th from 1 to 3 pm
to inaugurate LexFarm's new children's farm plot at the farm. Dress for a mess because this is a hands-on afternoon of actual planting. We will pick over the soil for rocks to be removed, mark off rows and plant sunflower seeds, transplant veggie seedlings and start some other vegetables from seed in our own dedicated children's farm plot!
Read more
here
and sign up soon! Suggested donation of $5 per child.
Discovery Day in Lexington

Saturday, May 25, Waltham Street Municipal Parking Lot, 10 am - 3 pm
Look for the giant veggies to find LexFarm's tent at Discovery Day. Catch up with the latest news as we close in on submitting our bid for the community farm! Bring the kids and plant a seed to take home and grow! Hope to see you there!


LexFarm Presents:
Genetic Roulette:The Gamble of Our Lives Film Screening
Monday, June 10, Cary Library, 6:30 pm
Join friends and neighbors in attending this screening, sponsored by LexFarm and nourish, on the health disadvantages of eating genetically modified organisms (GMOs) and the negative effects it has on our food system.  A discussion will follow hosted by Jack Kittredge, Policy Director of NOFA/Mass.  Free to attend.  Visit here for more information.


---
Membership Corner
Show Your Support, Become a member
A donation of
$20.00 for an individual membership
or
$35.00 for a family membership
will help us meet our current expenses and plan for the future.  You can sign up online
here
or send a check payable to
LexFarm
at
P.O. Box 554, Lexington, MA 02420.
If you have any questions, contact Brenda Netreba at
membe...@lexfarm.org
.
---
Wild Edible Plant Series
This series covers wild edible plants found in New England as told in Russ Cohen's book, "Wild Plants I Have Known... and Eaten."  If you haven't had the chance, take some time to read this delightfully informative book to find out more on wild plants for sustainable eating.

Note:  If you are unfamiliar with harvesting wild edibles, please consult a plant expert before attempting to forage on your own.

Part Sixteen: Black Locust


The Black Locust tree (
rabinia pseudocacia)
is an invasive species that originally came from the Southeast and was brought to these parts for its rot-resistant wood for making fencing posts.  It typically grows up to 60 feet high, has furrowed bark, blue-green, egg-shaped leaflets, and branches with thorns, which are not a concern when harvesting its flowers.  Black locust trees are commonly found near roads or field edges and when in bloom, black locust flowers give off an aromatic smell that is distinctive, especially when biking or driving by with the windows down.  For the most part, the black locust plant is inedible and poisonous with the exception of its flowers.  The best time to harvest them are within the few weeks leading up to Memorial Day.  They are easiest to pick from reachable branches.  Black locust flowers are white, similar in appearance to pea flowers, and grow in clusters, emitting a sweet, jasmine-like smell that make them appetizing.  When harvesting, only choose the aromatic flower buds, which means they have still retained their flavor.  In case you miss peak harvesting season, you can always go up to southern New Hampshire where they still might be available.  They are great to eat in raw form, are sweet in flavor, and can be added to baked or fried desserts.    
---
Further Thinking
For those who haven't had a chance to catch many food and farm-related TED Talks, Foodtank.org has come up with a list of 24 TED Talks About Food Worth Watching. 

---
We welcome your feedback
Please write us at newsl...@lexfarm.org with your feedback regarding the Update or if you have suggestions for area events that we can announce.

Jeanne Lin and Allison Moody