July 18, 2013
RFP Update

Lexington's Community Farming Committee has been meeting regularly to evaluate the proposals, including LexFarm's - to choose the best proposal for operating a community farm on the Busa Farm property starting in 2014. On Thursday morning, July 18th, they met with representatives from LexFarm and Community Farms Outreach Executive Director
Claire Kozower
who answered questions about the LexFarm proposal. Although Lexington Town Manager Carl Valente has said that the decision on the winning bid will be made by the end of the summer, we believe that the decision could come as early as next week. Stay Tuned!
News From LexFarm Goat Yard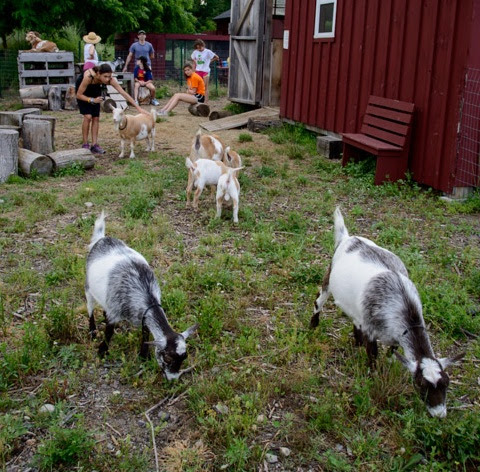 For those who have not yet heard, we have experienced some big changes at the goat yard this past week: The herd of nine Nigerian Dwarf dairy goats has been reduced to four as their owners have sold some of the goats to a new farm. New mother
Naya
and her two bucklings,
John Snow
and
Snoopy
, along with old friends
Sapphire
and
Salt
moved to their new home on Monday, leaving
Ionia
,
Ella
,
Pepper
and baby doe
Lilac
. Although such is the reality of a farm operation, we do apologize for the short notice, especially to those regular visitors who didn't have a chance to say good-bye. We also apologize for an earlier communication that indicated Salt would be staying through the summer. Unfortunately, that didn't work out. Please come and learn more about farm life with dairy goats every Sunday from 1 - 3 at the LexFarm Goat Yard, weather and volunteers permitting! And follow our goat yard blog here:
http://lexfarm.org/category/goatyard_blog/
If you'd like to help and can commit to a regular shift (1 - 2 hours/week), please contact
Josh Vatsky
:
jo...@lexfarm.org
.
Please note: all volunteers must be LexFarm members:
lexfarm.org/membership
.
LexFarm Digs Into Reading

Librarians from
Arlington's Robbins Library
Children's Room
invited LexFarm to participate in a special program in honor of this year's summer reading theme, "Dig Into Reading." Children's librarians
Pam
and
Sophia
arranged for children to paint plant pots while LexFarm's Farmer
Charlie Radoslovich
taught them about seeds and the lifecycle of plants. When their pots were dry, the children planted herbs to take home, and then as a group they planted flower seeds and radishes in a box in the courtyard that can be observed when the children return to the children's room over time. A selection of books on the subject was assembled and everyone learned a thing or two while enjoying a summer afternoon at the library!
Children's Farm Plot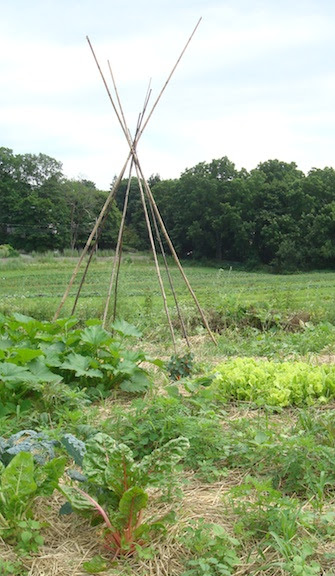 Our Children's Farm Plot is growing strong, with radishes and lettuce, kale, chard, summer squash and herbs ready to harvest or cut and come again. We will have to wait a little longer for the tomatoes and peppers, and the carrots and potatoes will not be ready for a while yet. We could use help pulling the radishes and lettuce and there is weeding to be done, plus we can re-plant the areas where the radishes and lettuces are harvested. Join us on Thursdays from 1:00 to 2:00 and go home with some salad fixings!

Sign-up
here
---
Membership Corner
Show Your Support, Become a member
A donation of
$20.00 for an individual membership
or
$35.00 for a family membership
will help us meet our current expenses and plan for the future.  You can sign up online
here
or send a check payable to
LexFarm
at
P.O. Box 554, Lexington, MA 02420.
If you have any questions, contact Brenda Netreba at
membe...@lexfarm.org
.
---
Wild Edible Plant Series
This series covers wild edible plants found in New England as told in Russ Cohen's book, "Wild Plants I Have Known... and Eaten."  If you haven't had the chance, take some time to read this delightfully informative book to find out more on wild plants for sustainable eating.

Note:  If you are unfamiliar with harvesting wild edibles, please consult a plant expert before attempting to forage on your own.

Part Nineteen:
Evening Primrose (
Oenothera
)  
The Evening Primrose is a thick, cactus-like biennial plant that can be found among wild flowers and in sandy soil near river and ocean shores.  They can easily be detected during mid-summer, when their bright yellow flowers are in full bloom, indicating it is in its second year.  They can grow up to six-feet tall and have stems covered in narrow open-seeded pods.  In it's first year at the start of spring, they sprout up as long-leaf rosettes low to the ground with tinges of red around the edge of each leaf.  At this point, the roots of the plant are edible and ready to be dug up for eating.  They are known to have a somewhat spicy, peppery flavor and make a great substitute for horseradish or turnip shredded into a dish.  They are great eaten boiled and fried as well.  They should be boiled for up to 10 minutes, however, may cause slight throat irritation and itchiness for some consumers that may be sensitive to their plant properties.
---
Further Thinking
Higher Ground, Boston's very first open-air rooftop farm and the second largest in the world, has opened this week thanks to the help of over 100 volunteers.  To learn more about it, go here.

---
We welcome your feedback
Please write us at newsl...@lexfarm.org with your feedback regarding the Update or if you have suggestions for area events that we can announce.

Jeanne Lin and Allison Moody