January 31, 2013
LexFarm Cheese-Making Class a Success!

This past Sunday,
LexFarm
, in conjunction with the
Belmont Food Collaborative
, had the pleasure of hosting its very first cheese-making class, which was held at the Church of Our Redeemer in Lexington Center.� Cheese-making gurus
Joan Teebagy
and
Lisa Fox
demonstrated cheese-making step-by-step and provided useful information to a class full of inquiring minds, covering topics including pasteurized milk, heat regulation and cheese-curdling, the many uses of whey, and where to find the best cheese-making supplies.� Class participants watched cow and goat's milk magically transform into three varieties of beautiful, creamy, and delicious cheese, including ricotta, chevre, and paneer.� By the end of class, everyone got to sample the tasty end-products, enjoyed the cooking camaraderie, and shared unique recipes for home-made cheese preparations to come.
Calling All Goat Yard Volunteers!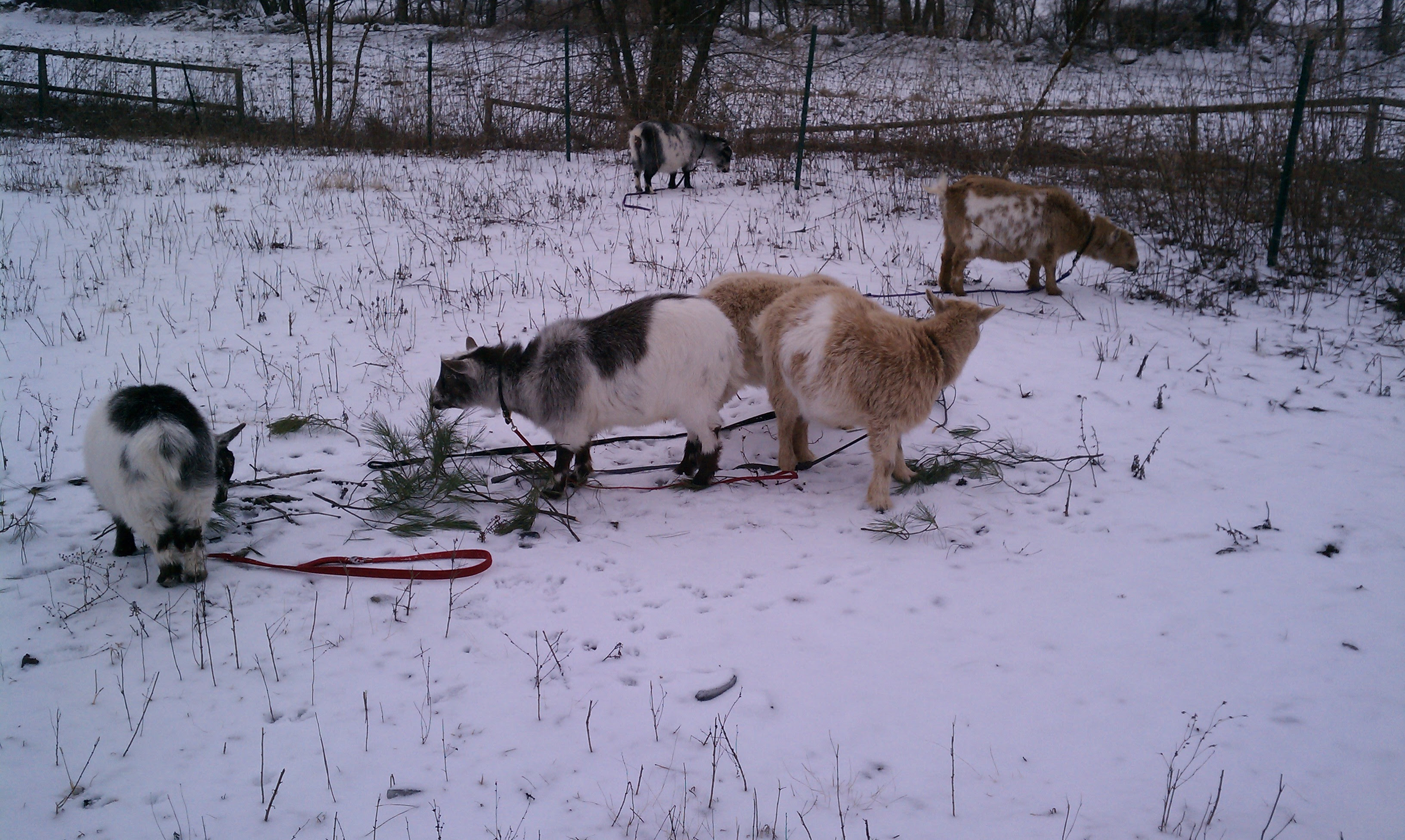 All those interested in learning about the
LexFarm Goat Yard
and opportunities to help out - are invited to visit the Goat Yard at
1:30 pm
on
Sunday, February 3rd
. We will be holding our usual public visiting hours, with a special tour and goat walk for interested volunteers.
Cost $5; Free for LexFarm members.
"Planting the Seeds for a Community Farm"

As LexFarm prepares its response to the forthcoming RFP for a community farm, we invite everyone to get involved to help shape programs and events that will form a basis for future programs and reflect the priorities you have for YOUR community farm.
LexFarm member
Nancy Gold
is looking for LexFarm supporters interested in farm-based education to work with her on developing a fun and exciting farm-ed curriculum and summer program for children.� She owns a large number of excellent resources, periodicals and books on the subject, in addition to having experience with school gardening and children's environmental education.
Please email Nancy at
nancya...@gmail.com
if you'd like to get involved.
Lexington Community Conversation: Climate Change: How can we make a difference in Lexington?

Tuesday, February 26, Keilty Hall St. Brigid's Church, 6:45 - 9 pm

Join neighbors, town staff, LexFarm members and other community groups to learn how other towns are preparing for potential problems and share your thoughts about this issue in Lexington. This is an opportunity for those concerned about our local food production to voice those concerns and help place agriculture and organic gardening on the list of priorities for Lexington.
The planning committee for this second annual Community Conversation includes members of the following Lexington groups: the League of Women Voters; the Global Warming Action Committee; Citizens for Lexington Conservation; Sustainable Lexington; LexFarm; the Planning Board, and the Town Manager's office.
---
Membership Corner
A Big Thank You to Brenda / 3rd Annual Meeting

We would like to extend our very best wishes and sincere thanks to our Membership Director,
Brenda Netreba
, as she takes a break from actively attending to LexFarm membership renewals and prepares for the arrival of her own new family member, some time around February 17th.� We also thank LexFarm member
Amy Swanson
for stepping in to help keep our membership records up to date, while Brenda is on leave.
But we still need YOUR help as we plan for a pivotal year and plan for a community farm: If your membership has lapsed, or it expires before the end of March, please consider renewing today.
Become a member or renew by February 22nd in order to vote at this year's annual meeting (see below)!
and..
Mark your calendar for
LexFarm's 3rd Annual Meeting
on
Sunday, March 24th
at 2:00 pm at the Lexington Depot. We'll elect our 2013-14 Board of Directors, share details about LexFarm's RFP response, and make some exciting announcements about plans for the upcoming year... you won't be disappointed!� More details will be sent to our members list.
(Note: You can email
membe...@lexfarm.org
if you'd like to check on your status.)
---
Wild Edible Plant Series
This series covers wild edible plants found in New England as told in Russ Cohen's book, "Wild Plants I Have Known... and Eaten."� If you haven't had the chance, take some time to read this delightfully informative book to find out more on wild plants for sustainable eating.

Note:� If you are unfamiliar with harvesting wild edibles, please consult a plant expert before attempting to forage on your own.

Part Eight: Pineappleweed
(matricaria matricariodes)

The pineappleweed plant shares many characteristics to its cousin the chamomile and is used similarly as well. It is made up of petal-less yellow flowers, is cone-like in shape, and smells like pineapples when crushed, hence its name.� You can find these weeds in gravelly, nutrient-poor soil, such as gravel pathways or vacant lots.� In Essex County, the pineappleweed is best harvested around mid-June and are best enjoyed as a tea, dried and steeped in some hot water.� They are thought to have many healing properties, including treatment for colds, upset stomachs, and other forms of abdominal pain. Similar to chamomile, it can also be made as soothing, stress-reducing tea, and is sweeter in taste without requiring added sweeteners.
---
Further Thinking
Brookwood Community Farm is hosting its 2013 Goods and Services Auction, which includes a weekend getaway in Vermont, private yoga classes, and Celtic tickets. All proceeds will go to its mission in restoring under-utilized farmland and address food access in low-income neighborhoods.� The auction will be held until February 16th, read more about it here.

---
We welcome your feedback
Please write us at newsl...@lexfarm.org with all feedback regarding the Update or if you have suggestions for area events that we can announce.

Jeanne Lin and Allison Moody