February 14, 2013
News from the Goat Yard!

All the animals weathered the major snowfall quite well. On Friday and Saturday during the storm they were confined mostly to the barn, but they are back to enjoying the sunshine and their temporarily smaller yard. The higher snow level around their double pens does increase the risk from passing coyotes, so we are watching the goats carefully and putting them to bed in the barn a little early each day until the snow level drops.
Also, last Thursday the vet came to visit Naya and confirmed that she is pregnant but was unable to determine the number of possible babies. She is not as far along as we had thought so we have slipped the expected due date back to early May.

-Kim Goldinger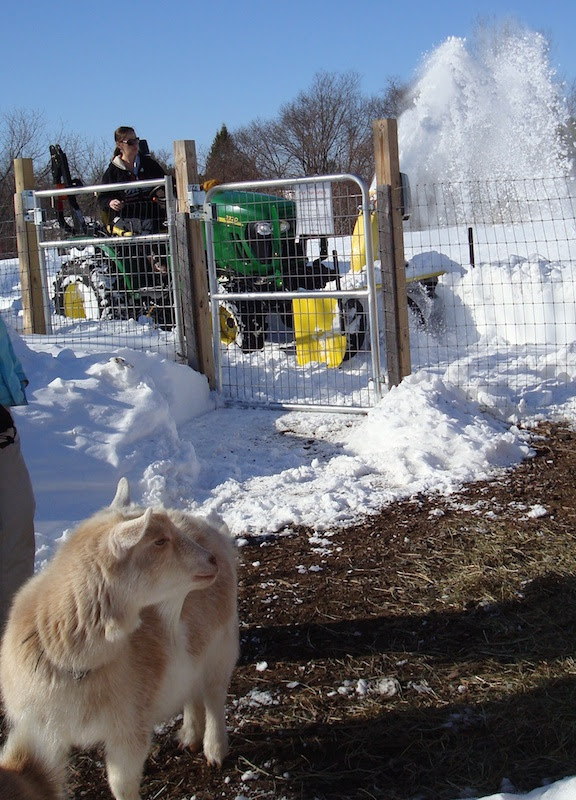 Shoveling out!
Public access to the Goat Yard is currently limited to walking through deep snow from the Busa Farm parking lot or from the trail around the Arlington Res. We welcome any volunteers with shovels (or a plow!) to help clear a path. Contact
ja...@lexfarm.org
if you can help.
Many thanks to LexFarm members
Sophie Goemans
and
Mike Decoteau
who on Sunday cleared paths for the goats in the Goat Yard so they could access their climbing structures.
-Janet Kern
Lexington Community Conversation: Climate Change: How can we make a difference in Lexington?

Tuesday, February 26, Keilty Hall St. Brigid's Church, 6:45 - 9 pm

Come out and join neighbors, town staff, LexFarm members and other community groups to learn how other towns are preparing for potential problems and share your thoughts about this issue in Lexington. This is an opportunity for those concerned about our local food production to voice those concerns and help place agriculture and organic gardening on the list of priorities for Lexington.
The planning committee for this second annual Community Conversation includes members of the following Lexington groups: the League of Women Voters; the Global Warming Action Committee; Citizens for Lexington Conservation; Sustainable Lexington; LexFarm; the Planning Board, and the Town Manager's office.
Eating with the Ecosystem, Boston Area Dinner Series
February 28, nourish Restaurant, Lexington, 6 - 9 pm
nourish Restaurant
is set to host the first segment of the
Eating with the Ecosystem Boston sustainable seafood series
.
Eating with the Ecosystem
is a traveling dinner series that had its inaugural run in 2012 in Rhode Island. The project now brings its community-driven, place-based approach to sustainable seafood to the Boston area, where it will launch at nourish with a dinner featuring Southern New England waters.
This dinner at
nourish
will explore the culinary treasures of the Southern New England marine ecosystem, an area of water stretching from Buzzards Bay to Long Island Sound to the edge of the continental shelf. Owner
Karen Masterson
and her team will present a creative menu showcasing a diverse sampling of seafood items from these waters, while scientist
Nathan Rebuck
and fisherman
Katie Eagan
will narrate the event, bringing to life the bountiful yet vulnerable ecosystem that produced the evening�s fare.
Future dinners include "Gulf of Maine" on March 26th at The Local Table in Acton and "Georges Bank" at Ten Tables in Jamaica Plain.� The dinner at nourish is $30 per person and reservations can be made through the restaurant at (781) 674-2400.
Farm to Lectern Speaker Series with Brian Donahue
March 7, Concord Museum, 7 pm, free admission

Environmental historian, farmer, and Associate Professor of American Environmental Studies at Brandeis University, Brian Donahue will be speaking on his research and work focusing on New England farms and past local food systems.� He will also be discussing his experience as co-founder and former director at Land's Sake, a nonprofit community farm in Weston.� Refreshments and locally made cheese will also be provided at this event.� For more information, please visit http://concordmuseum.org/visit/calendar.html or call the Concord Museum to make reservations at 978-369-9763, ext. 216.

---
Membership Corner
We want to celebrate with you!
Our 3rd Annual Meeting is scheduled for
Sunday, March 24th
at 2:00 pm at the Lexington Depot.
All are invited
, but only members in good standing will have an official vote, as we elect officers and directors for the coming year.� If your membership has lapsed or expires before March 31, 2013, we will send you a notice in the coming days, and hope very much that you'll respond by renewing.
Then plan to join us to vote and celebrate
on March 24 !
(Of course, you can also save us an email, and
renew right now
!)
THANK YOU!
We have a new family member!

Congratulations
to
Patrick
and
Brenda Netreba
on the birth of their daughter,
Lillian Rose
on January 30th. Lillian arrived a bit earlier than expected, but is doing well and taking good care of her parents.
LexFarm members know Lillian's mom Brenda through her work as LexFarm's Membership Director. As Brenda turns her attention from LexFarm members to her own new family member, we hope you'll help us out by checking on your membership and renewing before it expires. Just email
membe...@lexfarm.org
and we'll be happy to let you know your status.
---
Wild Edible Plant Series
This series covers wild edible plants found in New England as told in Russ Cohen's book, "Wild Plants I Have Known... and Eaten."� If you haven't had the chance, take some time to read this delightfully informative book to find out more on wild plants for sustainable eating.

Note:� If you are unfamiliar with harvesting wild edibles, please consult a plant expert before attempting to forage on your own.

Part Nine: Partridgeberry
(michella ripens)

The partridgeberry are ground covering plants that grow in cool, shady wooded areas, often found under pines and hemlocks.� The plants have short branches that carry opposing pairs of leaves that are dark green and rounded with thick, white ribbing.� It produces bright red "tic-tac-toe" shaped berries that are edible.� The berries are available for picking around late summer and can last until next spring.� Although these berries are flavorless, they can still be eaten in salads, as a garnish, or other dishes that need added color.
---
Further Thinking
Is all this snow making you long for some fresh greens?� Read Water Fresh Farm in the winter edition of Edible Boston to learn about winter farming possibilities in Massachusetts.

---
We welcome your feedback
Please write us at newsl...@lexfarm.org with all feedback regarding the Update or if you have suggestions for area events that we can announce.

Jeanne Lin and Allison Moody