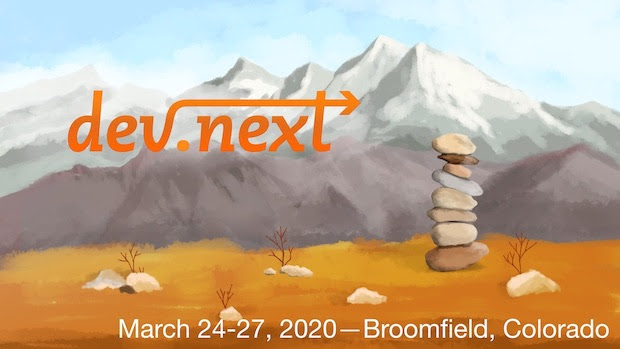 A conference organized by Venkat Subramaniam,
Agile Developer, Inc., with support from software communities
---
Register Early and Save $200
Early registration ends November 10th.
Regular registration ends January 10th.
Topnotch speakers—meals covered—swags included
All at an affordable price
Get an additional $50 off registration price with a discount code: JAVA_MUG
---
About the Conference
Learn with the experts and practitioners, about the state-of-the-art technologies and practices. dev.next is a conference for developers, testers, architects, team leaders, and technically-focused managers.
Topics covered include
Languages | Design and Architecture
Cloud | Server-Side | Frontend
DevOps | Microservices | Machine Learning
Testing | Being agile | Leadership
---
Featured Speakers
More than 60 speakers and 120 sessions over 3 days.
Optional workshop day will include six workshops to choose from.
Confirmed Speakers
Christina Aldan, Speaker, Trainer, Consultant, LG Designs
Dmitry Aleksandrov, Chief Architect, T-Systems
Lisa Crispin, Testing Advocate, mabl
Sebastian Daschner, Developer Advocate, IBM
Scott Davis, Web Architect, ThoughtWorks
Michael Feathers, Directorm, R7K Research & Conveyance
Mary Grygleski, Developer Advocate, IBM
Arun Gupta, Principal Technologist, AWS
Hadi Hariri, Developer Advocacy, JetBrains
Patrick Kua, Chief Scientist, N26
Ramnivas Laddad, Co-founder, Paya Labs, Inc.
Shadaj Laddad, Student, UC Berkeley
Josh Long, Spring Developer Advocate, Pivotal
Stuart Marks, Consulting Member of Technical Staff, Oracle
Kirk Pepperdine, Principal Engineer, Microsoft
Matt Raible, Open Source Developer, Okta
Bruno Souza, Developer, SouJava
Daniel Steinberg, Storyteller, Dim Sum Thinking
Venkat Subramaniam, President, Agile Developer, Inc.
Bruce Tate, Founder, Groxio
Chris Thalinger, Staff Software Engineer, Twitter
Ray Tsang, Developer Advocate, Google
Heather VanCura, Director & Chair, JCP
...about 40 more speakers to be announced soon...
---
Discount Coupon
Get $50 off the registration price with coupon: JAVA_MUG
---
For more information, please visit the conference website at devdotnext.com

dev.next is organized by Venkat Subramaniam,
Agile Developer, Inc with support from software communities.

Click here to view the Program Committee that's designing a topnotch schedule for the conference.
Follow on Twitter