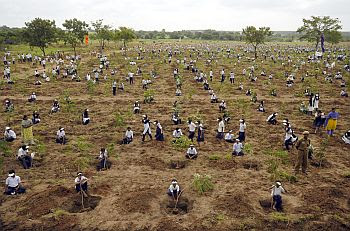 Its that time of the year when civic and nature organisations in India wake up from their slumber and begin to consider tree-planting yet again. Though this is an annual affair, strangely India's forest cover and biomass doesn't seem to improve even where these activities are being carried out.
Typically, tree plantation begins with the collection of whatever dismal fare in saplings the forest department is willing to provide, followed by the desultory digging of holes and careless planting of trees. This activity, concluded in a couple of days in the early monsoon, will be followed by a relapse into torpor.  The final act is, of course, the appearance of a plague of self-publicised reports in the papers....
Hindu culture gives trees (or plants) an importance of their own. Planting a tree is said to be more fruitful than having a hundred sons. A number of trees figure in our pantheon of objects worthy of worship - the
Peepul Tree (Ficus religiosa)
and
Banyan (Ficus benghalensis)
come immediately to mind. ...
Another malaise in tree-plantation is mono-culture. It could be that most people do not realise that the planting trees of a single species, termed as mono-culture, is harmful....
As far as growing trees is concerned, my own humble opinion can be summed up as :
Tree-planting is a craft. We should be "tree-smiths" – carefully crafting the environment in the manner that we make a Japanese garden, with each tree carefully chosen for effect, harmony, utility, importance...
Read more in
http://thebutterflydiaries.wordpress.com/2010/05/20/crafting-indias-landscapes/
Warm regards,

Ashwin Baindur
------------------------------------------------------------------------
Col Ashwin Baindur
OIC Corps Archive & Museum, CME, Dapodi Pune 411031
-------------------------------------------
Tel : 020-27147976 (R), Mob : 09923454462
Email: ashwin.baindur(at)gmail.com, ashwin_baindur(at)yahoo.com
------------------------------------------------------------------------
One does not often associate James Michener with nature-writing.Yet it is difficult to find one of his epics which has not been embellished by a tale about the land, its formation, the animals, the plants and the people who live amongst them....
Read "Epic splendour- The nature writing of James Michener. " in...
Blog:  http://thebutterflydiaries.wordpress.com/2010/02/13/epic-splendour/
"The Butterfly Diaries" The natural travails of an Army Officer in Hindostan!
-----------------------------------------------------------------------------------------------------