Here are common names of Glinus oppositifolius ...
(Synonyms: Mollugo oppositifolia, Mollugo spergula)
... bitter cumin, bitter leaf, Indian chickweed
 • Malayalam: കൈപ്പ് ജീരകം kaippujeerakam
 • Marathi: झरसी jharasi, कडवी भाजी kadvi bhaji
 • Sanskrit: कपित्थपत्रा kapitthapatra, पर्पटः parpata, उष्णसुन्दर ushnasundara
 • Tamil: பெருந்திராய் peru-n-tiray, திராய் tiray
 • Telugu: చేతరాసి కూర chetarasi kura
In Hindi, the most popular name is jima
जिम means: a mass, a multitude, a mob ... VALIDATE whether relevant.
In Kannada: chadaraasi OR chandarasi ... which would be correct ?
Regards.
xxxxxxxxxxxxxxxxxxxxxxxxxxxxxxxxxxxxxxxxxxxxxxxxxxxxxxxxxxxxxxxxxxxxxxxxx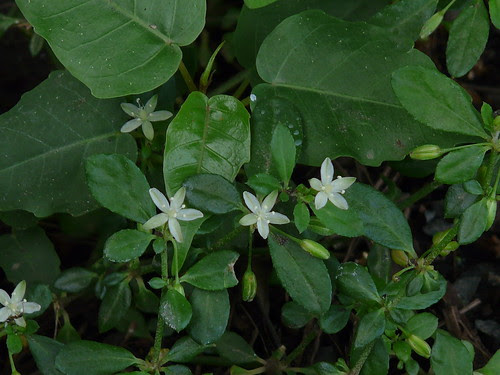 xxxxxxxxxxxxxxxxxxxxxxxxxxxxxxxxxxxxxxxxxxxxxxxxxxxxxxxxxxxxxxxxxxxxxxxxx