IHE-Europe Experience Sessions
On June 15-16-17 the 2021 Online IHE-Europe Experience Sessions, offer youan engaging, comprehensive and yet diverse 3-day programme. To attend an Experience Session you will need to REGISTER for that Session, details can be found on the Connectathon Website.

The programme comprises interactive and informative sessions delivered by key presenters, experts in their specific areas of interest, who have come together from countries across Europe and beyond. Many are of International repute, all are happy to share their experiences and, in the co-operative spirit of IHE-Europe, help others with their interoperability activities and pass on their expertise. They include Vendors, Users, Specifiers, Trade Body Specialists, Procurement Specialists, Technical Architects, Expert Advisers, Government and European Union speakers.

There are several themes to the IHE Experience Sessions. These include a number of Best Practice Sessions specifically in response to delegates requesting live examples. Also up-to-date information on where IHE Profiles have contributed to Interoperability successes across Domains and countries as we approach IHE Connectathon® Week. This is also the 20-year anniversary of the IHE-Europe Connectathon, which is ONLINE from 14 -18 June. Like last year it is being run from the Rennes Connectathon Operations Room, as you will see if you sign up for one of six VIP Tours AM or PM.
Each day of the European Experience Sessions features key Best Practice Sessions these include:
Day 1 Tuesday 15 June 
10.15-11.00 How Images are being shared across European Countries. This provides a general overview and vision from the work of the IHE-Europe Imaging Taskforce and provides a platform for many of the Best Practice Sessions that follow over the next days. Register here.
Day 2 Wednesday 16 June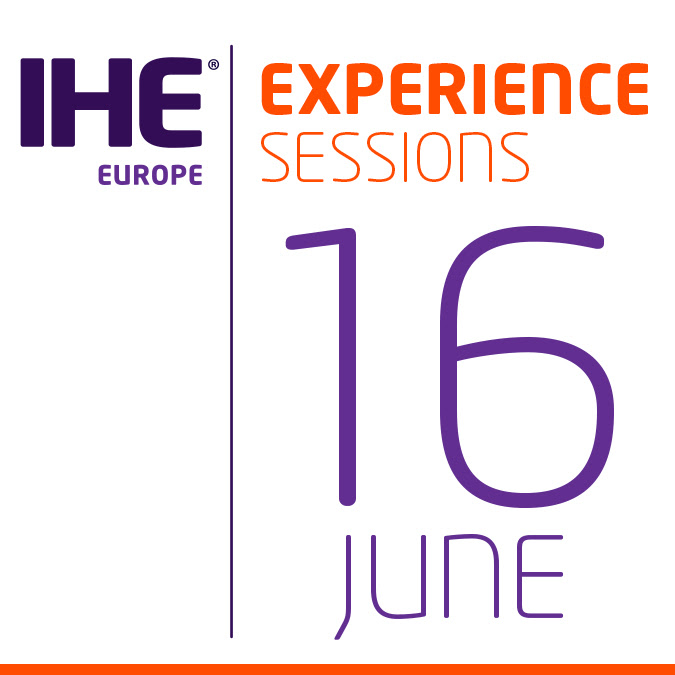 10.00-11.00 Best Practice examples from The Netherlands, Luxembourg and Switzerland look at the Patient Health Record Platforms and how IHE-Profileshave enabled patient records to be securely available wherever and whenever they are required. Register here.

11.00-12.00 "Hot off the press example" from Italy on the Management of sensitive COVID-19 Clinical Data between Friull Venezia Giulia Regional Labs and its' patients - using Health Information Exchange. 
Best Practice from The Netherlands/Germany about the cross-border exchange of medical images and reports in the Border Region Project. The initiative was founded on collaborative liver transplant surgery between specialist hospitals in Maastricht and Aachen. This shows the demise of previously used DVDs for MDT meetings and now the use of secure digital networks that enable metadata to be freely exchanged, with multiple benefits accruing to patients and staff alike. Register here.

13.00-13.30 Best Practice example, implementing the Swiss eMedication Treatment Plan. Register here.

13.30-14.00 Implementation of the National Policy on Interoperability in Germany sees Government, National bodies and industry working together on guidance and specifications for the nation-wide health record and the crucial need for interoperability. Register here.
Day 3 Thursday 17 June
10.00-12.00 The importance of holding Projectathons, the benefits that flow all leading to a successful implementation will be presented with speakers from Switzerland, France, Ireland, Gabon, Greece and Finland.  Register here.

13.00-14.00 Presentation from Greece on their Interoperability Framework, how it all began, what has been achieved and the future Roadmap, including the imminent Projectathon, July 2021.
Best Practice - The Netherlands Guide for Multidisciplinary Oncology Consultation, hear from the clinician's viewpoint.  Register here.
We look forward to you and your colleagues participating in this year's Online IHE-Europe Experience Sessions and hope the dates are not just saved in your agenda but that you have already made plans to Register for Sessions of Interest and also to participate in one of the VIP Tours of the IHE Connectathon itself.
Keep your eyes on the Experience Programme as it becomes final in the coming days.