SVETKAVISTA
Kayleigh Jamison
Tease Publishing
ISBN: 987-1-934678-42-8 (ebook)
ISBN: 9781934678435 (print)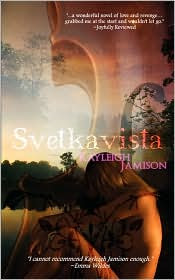 Trapped within a life where she has always been an outsider, Karina dutifully follows the wishes of her father by day, and secretly pursues her dreams by night. Raised within the strict, patriarchal society of the Rom at a time when discrimination and fear are at their peak, she is forced to hide both her love of music and her passion for those who encourage her dreams.
She seeks comfort in the arms of her dearest friend and mentor, who shows her that love and lust rarely confine themselves to the ill-conceived notions of normalcy.
When a lie, spoken in a moment of desperation, threatens to shatter everything Karina holds dear, she must choose between those she loves and her own reputation. Will the truth set her free or destroy her? Does she have the courage to follow her own heart?
If you are looking for a lyrical voice, superb characters that draw you in, and fascinating out of the ordinary historical adventure with an erotic twist, I cannot recommend Kayleigh Jamison enough.
-Emma Wildes, #1 bestselling author and 2007 Eppie winner
Ms. Jamison has penned an absolutely stunning and adventure tale that drew me in from page one, to the point that I forgot everything but the story unfolding before me.
-Caro, Coffee Time Romance, 5 cups
Svetkavista…is a wonderful novel of love and revenge…grabbed me at the start and wouldn't let go.
-Amelia, Joyfully Reviewed
Rarely does a novel come along with the ability to capture passion and pain, honesty and love so completely. Sensuous, heartfelt and truly beautiful, Svetkavista is one of the best romance reads of the year.
-Kelly, AORAOG Reviews
…a riveting story; I couldn't stop reading it and really didn't want it to end.
-Julianne, TwoLips Reviews, 4 stars
Wow, just one extraordinary, unique story!
-Cathie, Euro Reviews, 5 stars
I don't hesitate to recommend this complex story; it thrilled me with its involved plot lines and kept me reading late into the night.
-Chamomile, Whipped Cream Reviews, 5 Cherries
http://www.kayleighjamison.com
--
~~~~~~~~~~~~~~~~~~~~~~~~~~~~~
Kayleigh Jamison
History...rewritten
www.kayleighjamison.com
~~~~~~~~~~~~~~~~~~~~~~~~~~~~~