Join us for a discussion about Water and Livelihood Security: The Foundation to Make India Atmanirbhar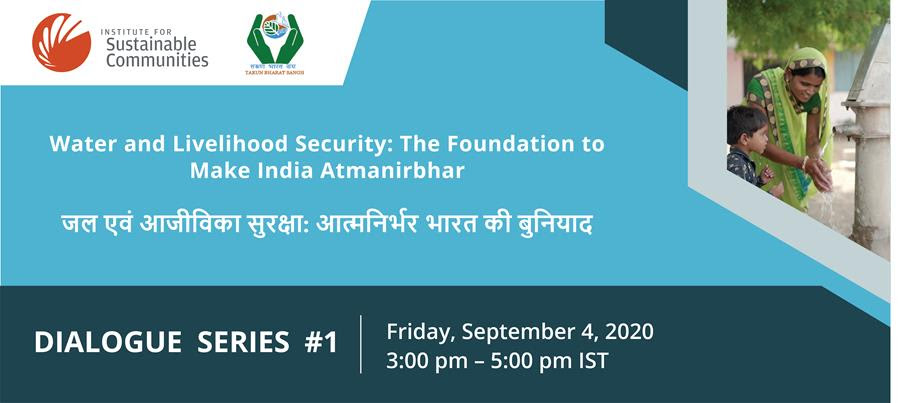 Water and Livelihood Security: The Foundation to Make India Atmanirbhar
Session #1– Friday, September 4th, 2020
3:00 PM – 5:00 PM IST
The Institute for Sustainable Communities in collaboration with Tarun Bharat Sangh has initiated a dialogue series entitled "Water and Livelihood Security: The Foundation to Make India Atmanirbhar."
The series will feature interactive discussions involving practitioners, representatives from government, civil society, academia and communities to discuss, ideate and share experiences on enhancing and improving water and livelihood security in India.
Dialogue Series Session #1 will explore the theme of the series – "Water and Livelihood Security: The Foundation to Make India Atmanirbhar".
Shri. UP Singh (IAS)
Secretary, DoWRRDGR, and DDWS, Ministry of Jal Shakti
Shri. Jalpurush Dr. Rajendra Singh
Chairperson, TBS
 Dr. Indira Khurana
Vice Chairperson, TBS
 Shri. Subhash Tamboli
Executive Director, AFARM
Shri. Vivek Adhia
India Country Director, ISC
Romit Sen
Associate Director, Water Program, ISC
For any queries/support, please contact: Shawn Phulpagar, Institute for Sustainable Communities
sphul...@sustain.org
We look forward to seeing you at the webinar.
Water and Livelihood Security: The Foundation to Make India Atmanirbhar
Session #1– Friday, September 4th, 2020
3:00 PM – 5:00 PM IST
Regards,