People Changing the World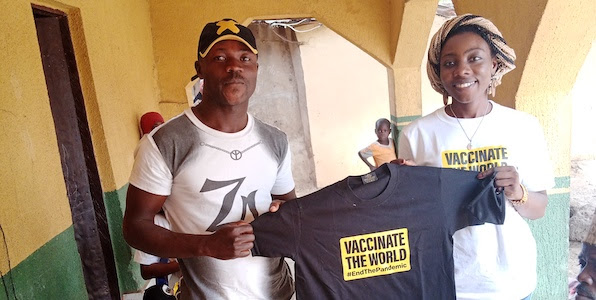 Zigwai (right) campaigning for global Covid-19 vaccine access
Who are you and how did you become involved in activism?
My name is Zigwai Tagwai and I live in Abuja, Nigeria. I am 30 years old and I have been a ONE Activist for about two years. I work in the development space on youth engagement, political participation, good governance and civic education.
In Nigeria, graduates are required to take part in the National Youth Service Corps program for one year. It was during my service year in 2013, that my interest in community development grew. I was sent to a community in Benue state, located in north-central Nigeria, where I experienced what it was like to not have access to basic social amenities such as portable drinking water, a well-equipped health care center, schools with quality teachers, and came across challenges of drug abuse and child pregnancy.
As part of the Community Development Groups, I supported drug free school clubs and set up a counselling team to serve as a safe space for young people struggling with drug abuse and worked with the community on environmental problems like erosion, which had led to people losing their homes and farmlands.
There were so many challenges to be addressed and I did the best I could to help out, but I needed a bigger platform, the right instruments and better resources to help drive lasting change.
Can you tell us about the work you do now?
There's a high level of voter apathy, lack of accountability and transparency by the elected officials, and a gap in political education of citizens in Nigeria, which drives the work I do.
I believe that there is a need for Nigerians to understand the power that they wield, as well as the responsibilities they have in ensuring that there is good governance, active democracy and sustainable development in Nigeria.
I've worked on several public advocacy projects with organisations like Open Society Initiative for West Africa (OSIWA) focused on educating Nigerians on their civic rights, the functions of the instruments of the state, and how they can effectively engage their elected representatives within their communities. I'm also actively involved in initiatives that aim to ensure free and credible elections in Nigeria like Accountability Lab Nigeria and the Young African Leaders Initiative (YALI).
What motivates you in and outside of your work?
An end to extreme poverty and preventable disease means a life of dignity, self-respect and confidence as well as growth and stability. Everyone wants a better life and a system that works effectively.
The only way that can become a reality is if we all become intentional about ensuring that the infrastructures and policies needed are put in place. My desire for a better life for myself, my family, my community spurs me to keep at it, do more and speak out.
Outside of work, I listen to music and dance a lot (which I know how to do very well), watch movies, travel and spend time with friends and family. I recently saw OMG: The Musical, which is a Nigerian stage play about three great heroines fighting against patriarchy in Nigeria.
📺 Watch this video of Zigwai who has a message for anyone thinking about getting involved in social change!