One North is a neighborhood development on Fremont between Williams and Vancouver with a courtyard nestled between three office buildings. The design plan includes laser-cut quotes in weathered steel bands located throughout the courtyard. What should they say? Your input is welcomed!
DRAFT—-NOT YET APPROVED
6:30 Board Meeting begins with a  warm-up question
Kristin Yates reads the minutes
One house, two house, red house blue house, both will be gone soon.  The two houses on Cook near Vancouver are slated to be demolished, forever erasing 110 years of history in the neighborhood.
DRAFT – NOT YET APPROVED
Minutes of Eliot Neighborhood Association Land Use and Transportation Committee 2015-02-09
The Albina Building 1927
The Albina Building, Larrabee and Albina, 1927. Portland Archives A2009-009.2471.
This building on the corner of Larrabee (Interstate) and Albina was originally built as a hotel in the late 1890's or early 1900's.  The building looks like it was a triangle, however it was actually shaped like a "V".  At the top of the building, over the corner entrance, are the words "The Albina".  It appears there is additional text above in the shadows, but it is unreadable – or perhaps it is ornamentation.  In 1929, The Albina was home to the "Ideal Cafeteria" and the "Baxter Apartments".
Union (MLK) and Knott 1929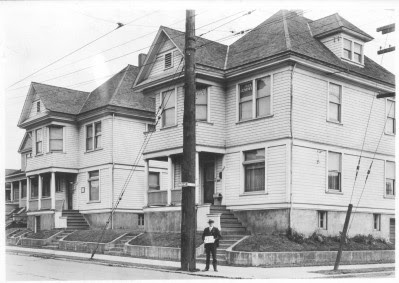 Union and Knott 1929. Portland Archives A2009-009.1053.
These twin houses on the corner of Union and Knott were built in 1900.  By 1929 Union had already become a busy street and the houses had started the transition from residential to commercial.  "Dr Muck Dentist" occupied the second floor of the house on the corner.  Over the course of his dental career Dr Earl C Muck had his office in different nearby locations on Union.
DRAFT – NOT YET APPROVED
Notes from Eliot Neighborhood Association Land Use and Transportation Committee meeting January 26, 2015.