Current Projects:
Ace Hardware on Broadway– Opened early in 2016 with hardware store and self storage units
NE 7th and Russel- 6 story 68 unit apartment project with 43 car parking spots underground.
Cook Street Lofts – 104 unit 5-story building at Vancouver and south of Cook
N Vancouver and Cook- Cook St Apartments – 206 Apartments with ground floor retail to be rented by New Seasons offices, 2 stories of underground parking.
1 North- Office and Commercial buildings north of the Williams New Seasons. Construction almost complete
300s NE Morris – 11 townhouses are going up quickly and for sale in the 375-450,000 range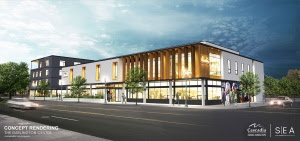 Garlington Center Concept Rendering
At an Open House on December 9, 2015 Cascadia Behavioral Healthcare released architectural plans for its new $3.5 million center in Northeast Portland.  Here is what Sue Vorenberg, Contributing Writer of the Portland Business Journal, wrote about the project: 
Proposed building along Kerby
Emanuel Hospital representatives recently met with the Eliot Land Use Committee for their annual report.  They are about to embark on a major expansion on the West side of their campus (by Kerby, near I-5).  They will be building a large building on the site with even more parking and a new burn center that would be the first renovation for that center in a long time.  The building looks like a giant wall, but it is not in an area that usually has people walking in it so maybe that is ok.  Members of the committee were not excited about the design of the building, however the improvements to the hospital sound really exciting and it is a huge asset to have a top tier hospital in the area.
Freshly Painted Community Crossing
This spring, Eliot neighbors will once again gather to refresh the landmark intersection painting.  "Eliot Community Crossing" is at the corner of NE Rodney Avenue and NE Tillamook Street  It will be an experience you will not want miss, filled with painting, eating, music, and fun for the whole family.   Join us and invite your friends and family to share in this memorable and unique Portland experience. This will be the last repainting for two years due to sewage repairs in 2017.
Portland's dark dreary nights will soon glow brightly with a dynamic new festival. The Willamette Light Brigade, stewards of the Morrison Bridge's nightly  color lighting displays,  is presenting Portland's First Annual  "Portland Winter Light Festival" on February 3rd-6th sponsored by Portland General Electric and powered by PGE renewable energy.
According to the Greater Portland Pulse, there were over 190,000 people aged 65 and older living in the Portland metro area as of the 2010 census. By 2030, that number is expected to grow to almost 395,000.
Have you seen the Eliot Neighborhood Food and Drink page?  It's a page, complete with map, that helps you locate a place to grab a bite to eat or get a beverage.
-----
Stay up to date!  Receive an email each time a new article is posted on
eliotneighborhood.org
.  To sign up, visit
http://eliotneighborhood.org/follow-us/
.