DRAFT—NOT YET APPROVED
6:30 Board Meeting Begins
Kristin read the minutes and Joe Entler moves to have the minutes approved
All in favor none opposed

Comprehensive Plan Map App
The Portland Comprehensive Plan is a long range 20 year plan for land use and infrastructure in the city.  The plan is currently undergoing an update as mandated by the state of Oregon.  Last fall, the deadline was extended for input so you still have time to submit written comment on the plan until March 13th 2015.  The easiest way to comment is using the Map App.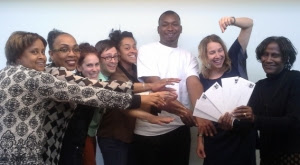 2014 NECN Community Grant recipients
Six grants of $2,000 each will be awarded by Northeast Coalition of Neighborhoods (NECN) for collaborative, community-based projects in Inner N/NE Portland.
What can a $2,000 grant accomplish? Last year, artist and educator Sharita Towne used an NECN grant to fund the groundbreaking "De-gentrifying Portland" project. A partnership among several N/NE Portland organizations, De-gentrifying Portland was a summer program for youth of color, which included training in filmmaking, a deep exploration of N/NE Portland history, and a standing-room-only public event to screen the students' films.
By Susan Stringer – 
Proposed development on 7th and Russell
The repeated appeals from Demand Redesign to developer Dan Neal of Eugene-based Paradigm Properties to scale back his project at 7th and Russell have fallen on deaf ears. Mr. Neal is not willing to reduce the height of the building or alter its shape by creating setbacks on the south and west sides. If the project goes forward as designed, it will be an out-of-scale eyesore that will impact infrastructure, compound the parking problems in our neighborhood, and create traffic safety issues and congestion for residents in Eliot and Irvington.
Notes from Eliot Neighborhood Association Land Use and Transportation Committee meeting 12-15-14
Just before the ball dropped to celebrate the new year, Portland Bureau of Transportation announced that the "N Williams Safety Project reached substantial completion".  One of the major tasks completed in December was installing the permanent light at Cook.  There is still some minor work to do on Williams and the Rodney Bikeway portion has yet to begun.  It is nice for travelers along the corridor, whether in a car, on a bike or on foot, to see construction wind down and to take advantage of the improvements.
Continue reading