You're receiving this email because of your affiliation with the Academy of Model Aeronautics.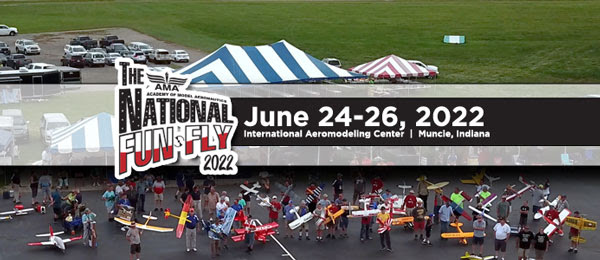 2022 AMA NATIONAL FUN FLY
June 24-26
International Aeromodeling Center, Muncie IN
Just a few weeks away!
Join us for a weekend full of flying, good food, and a larger swap meet area. Come out and meet your district representatives, and participate in the official AMA membership meeting. Bring the kids, buddy box flying will be available. Or visit the National Model Aviation Musuem!
Online pre-registration extended to June 22!
---
© 2022 Academy of Model Aeronautics.
5161 E. Memorial Dr., Muncie IN 47302.
Tel.: (765) 287-1256; Fax.: (765) 289-4248 — All rights reserved.
For problems with this email please contact websu...@modelaircraft.org .
Manage your email subscriptions, or to unsubscribe Click Here.