Pridham has never recovered his $2.5 million and considers the case an unsolved crime. He had no desire to keep Big Blue Lavender Bay but nor did he want it reappearing on the market, hence his donation to the University of Melbourne soon after the criminal trial.
"I had no need for it, and it had to be safely out of circulation," Pridham told AFR Weekend via text in what are his first comments on the matter, 16 years after buying the painting. "I felt it was better if it could be used in any way to educate aspiring or actual experts in how to spot fakes … it was also important that it was not destroyed as it can be used as evidence should the criminals responsible be taken to trial in the future."
The painting is now in the hands of the university's Centre for Cultural Materials Conservation, joining the department's database of fakes, which includes paintings in the style of Tom Roberts and Charles Conder.
CCMC director Robyn Sloggett, who was one of the expert witnesses in the 2016 trial, told AFR Weekend that Pridham's donation would indeed help educate future fake-busters. But she has yet to show students Big Blue Lavender Bay as she wants to wait until the media attention subsides, particularly as a two-part documentary about the case screens on the ABC from Tuesday.
Wendy Whiteley says that despite the conviction being overturned on appeal, she is certain the paintings are fake. Louie Douvis
"It's still a sensation … you don't want to bring students into a scenario where they think this is glamorous or exciting. It should be seen as what it is, criminal activity," Sloggett says. "So therefore any education we do with it needs to be de-contextualised from the celebrity status of this particular painting."
The Whiteley Art Scandal, written and directed by filmmaker Yaara Bou Melhem, and produced by Ivan O'Mahoney of In Films, traces this complex and astonishing tale of alleged art fraud. Aside from revealing the whereabouts of Big Blue Lavender Bay, Pridham declined to be interviewed for the documentary, as did acquitted conservator Aman Siddique.
But Siddique's co-accused, Peter Gant, happily fronted the cameras and continues to insist the paintings are authentic. Gant's view is at odds with that of Wendy Whiteley, who was married to Brett for 27 years and central to his artistic practice. In the documentary, Wendy Whiteley reiterates what she told the court – the three paintings are glaringly fake. Speaking to AFR Weekend this week, Whiteley expressed her continuing dismay with the trial's outcome.
"I would have liked to see the whole thing come out differently. I would have liked to see them go to jail and have those paintings destroyed, but they exist, and god knows where the others are," she said.
Andrew Pridham, Sydney Swans chairman and vice chairman of MA Financial Group, pictured this week in Sydney.  Oscar Colman
"I felt really upset for Mr Pridham because everything he did was with good intent and he didn't get any money back. It's sad. For him it must have been an awful experience, as it was for me."
Since that searing experience, Pridham has become "forensically diligent" when buying art, telling AFR Weekend he chooses his dealers and advisers carefully.
"There are many fakes in the market. I am sure more are being created daily," he said.
Sloggett estimates that about 10 per cent of artworks on the market are "problematic".
"That means they don't have secure provenance [history of ownership] or their provenance can't be verified … or questions raised about them haven't been resolved," Sloggett says. "There are a whole lot of reasons why there's that percentage that floats around, and part of it is the unregulated nature of the art market."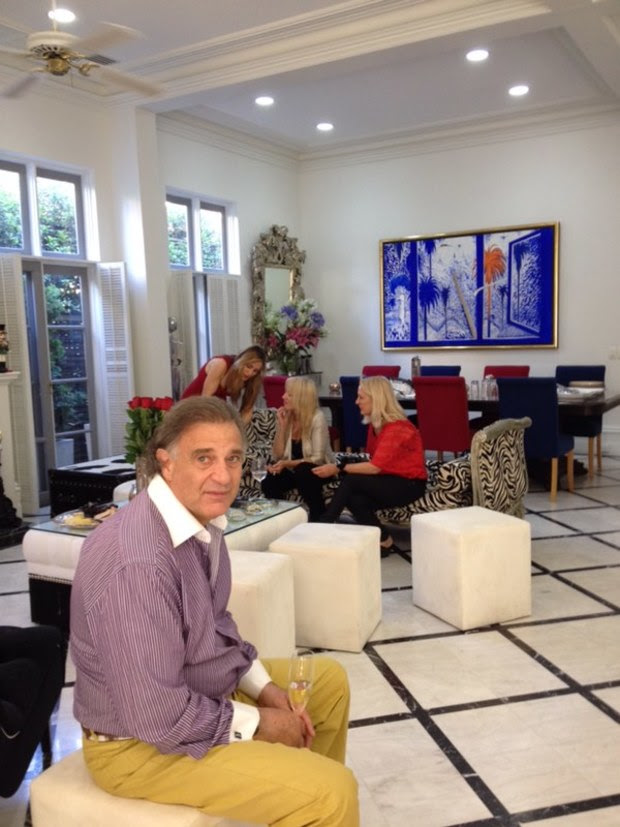 Steven Drake at his Toorak home in 2013. On the wall in the background is Lavender Bay Through the Window, a work purported to have been painted by Brett Whiteley in 1988 and worth almost $1 million, but which became the subject of one of Australia's biggest art fraud trials. It was said to have been missing since 2010; this is the first image to emerge of the work in its entirety. Alexander Stanowitsch
As the 2016 trial showed, Australia's legal system is ill-equipped to deal with the complex nature of art fraud, compounded by the fact that there are no dedicated art fraud squads in this country.
Says Pridham: "Ultimately regulators need to recognise that art is a big industry and that fraud in the industry is actually a serious crime – rather than what appears to be an attitude of 'if you can afford to buy art you can afford to be defrauded'."
The whereabouts of the two other paintings at the centre of the trial – Orange Lavender Bay, bought by Sydney car dealer Steven Nasteski in 2009 for $1.1 million (Nasteski later demanded and received a refund) and Lavender Bay Through the Window, offered for sale in 2009 for $950,000 – remain unknown.
Orange Lavender Bay was last in the ownership of Melbourne engineer Steven Drake, who bought the painting in 2013 for $122,000, hoping it would eventually be proven authentic. So far, his hopes have not been realised. Rather, the painting's value was given as $15,000 in March 2021 when Drake transferred it to his former partner Maree Musialkiewicz, who goes by the name "Ola", as part of a debt settlement. AFR Weekend understands Musialkiewicz no longer has the painting.
Lavender Bay Through The Window was last sighted on the walls of the couple's former Toorak home, in a photograph taken on Christmas Day 2013.
The Whiteley Art Scandal screens on the ABC on September 19 and 26.
Gabriella Coslovich has been an arts journalist for more than 25 years and wrote the Walkley-award winning book Whiteley on Trial (MUP 2017) on which the documentary series The Whiteley Art Scandal is based.