It looks like we will finally see a decrease of splogs on Blogspot. Splogs are simply blogs made for spam. The amount of splogs created with
blogger.com
and hosted on blogspot was getting out of hand. It seems a recent out crying of bloggers has pushed Google to do something.
Google implemented a system that can detect splogs and then force them to take a CAPTCHA test. It's something like a DUI test for computers. The only difference is you will come back human or computer. Sound familiar? It's just a fancy way of saying "those-little-picture-boxes-that-make-you-type-in-words-to-pass" or something like that.
The genius part of this system is that it doesn't test everyone and it doesn't limit anyone but the spammers. I'm sure that it will have false positives. In that case all you have to do is pass the CAPTCHA test.

CAPTCHA test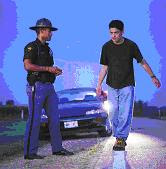 Don't know why I'm onto this
DUI thing.
Discuss This!
--
I have not had time to make any updates, sorry. Don't worry I haven't lost interest and plan on picking it back up again. If you didn't notice we have a new look, orange.
--
Posted by KAS to
Negative Logic
at 10/24/2005 04:47:00 PM