Hello folks!

Just a few quick updates -- first from the blog:
My books from Tirgearr are half off all this month. Want an alternative to Am*z*n? There's Smashwords! Especially since a lot of people are
boycotting the behemoth today
. An additional thing to consider: most of my Tirgearr titles are going out of print at the end of the month as the contracts are up. It's possible some may be back in print in other forms at some point, but given how busy I am and the low priority that will have, it may be a while.
New releases include:
Also I have seen some great art this summer:
And I have seen some weird and wonderful things:
I am busy writing of course: there are many upcoming things. If you're in Dublin for WorldCon, be sure to look for me on panels. I'm giving a paper on
Jonathan Strange & Mr Norrell
 that will be published later this year (I think). The Fox Spirit Skulk Players will be performing my radio play
Con-Eire
on Friday at 4 or 5 (it was originally scheduled for 4, then I was told it was moved to 5, but the latest update said 4 again, so let's check the program). I've been reading loads -- trying to get reviews up as I can, but it's not always a priority. I'll be talking about the
Fall in Limerick
in November. I'll be hiding away in Italy in September. I am giving a presentation on
godmother of noir Dorothy Hughes at NEPCA
in November.
I'm laying plans for next year already, including
Prague for the World Congress of Scottish Literatures
. Considering whether to do another summer conference or just stay home. This is a genuine effort to do less. I probably won't be doing Kalamazoo or Leeds. I will be doing PCA in Philadelphia, probably part two of my
Hannibal
 and sound design presentation from this year. There are some audio projects in the works: this year's explorations have whetted my appetite.
What is a priority? A little relaxing; not something I'm particularly good at lately, but I am trying to get back to my idling ways. It's hard when both
academia
and the world at large seem to be doing their best to implode. What can we do? Focus on the things we can affect. Be the change you want to see. Nothing will be fixed overnight. It's a process. Be more
Moomin
(or in my case, Snufkin).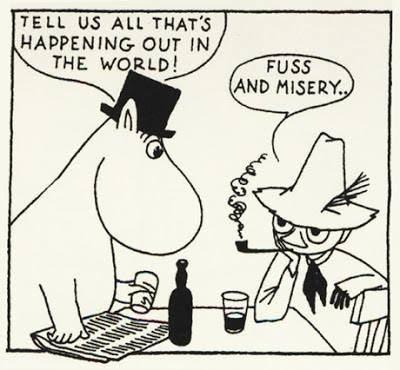 Cheers --
Kate