Josh's team scoured every potential technology that could use waste biomass. In this first-of-a-kind apples-to-apples comparison, what they found was absolutely striking and completely unexpected. It turns out that the most valuable technology, on every metric, is letting woody biomass heat itself up in a pressurized container until it becomes a gas. You can then react and separate that gas stream to where it's just hydrogen fuel and CO2 for permanent geologic storage.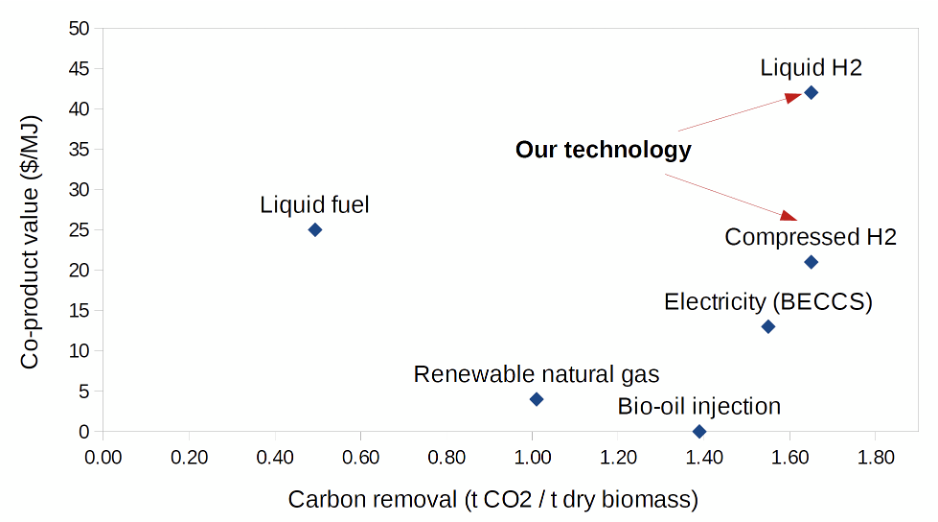 Comparison of biomass carbon removal pathways. Credit: Josh Stolaroff
One of the reasons this technology makes sense is because hydrogen is the most valuable common energy product (i.e., more valuable than electricity, jet fuel, or diesel). Also it's possible to permanently sequester virtually all of the atmospheric carbon in the woody biomass, and when customers use the hydrogen there are no carbon emissions — only water. All the other possible woody biomass technologies lose the stored energy and/or stored carbon. It should be no surprise that leaving no waste behind is extraordinarily valuable. In a mature feedstock market twenty years from now, Mote can outbid other woody biomass technologies for feedstock.
We next looked at how our best-of-biomass technology fits into the broader energy system. For the world to reach net-zero emissions, we need to massively scale up renewable hydrogen and atmospheric carbon removal.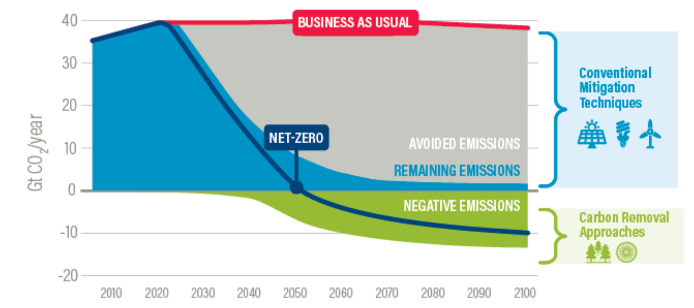 Credit: World Resources Institute. Source: Adapted from IPCC 2018
The two ways of making hydrogen today are broken. Your two options are either making it from fracked methane or from highly-purified drinking water. We can't afford more methane emissions from fracking, and it is hard to justify dedicating the amount of scarce resources (including land, electricity, and water) needed to electrify water into hydrogen. We continue to learn about the underestimation of methane emissions from fracking. And Southern California is already spending billions of dollars to reclaim drinking water from highly contaminated aquifers and the ocean. Waste biomass is much more sustainable than either of these two options.

Today's feedstocks for hydrogen production: fracked methane or highly-purified drinking water
Mote's technology has an ultra-negative carbon footprint because of the atmospheric carbon embodied in woody biomass that we permanently sequester. It is unsurprising that even the best case scenarios for hydrogen production from fracking or drinking water are carbon-intensive and constrained by scarce natural resources.

Note: Figures are in grams of CO2 per megajoule. Source: Columbia | SIPA — Center on Global Energy Policy
Mote's technology also provides a compelling carbon removal technology when compared to alternatives available today. First, natural solutions like replanting trees are inexpensive, but there are serious limitations to how much this process can be scaled up and ensuring the permanence of the results is a huge challenge. The second option is Direct Air Capture, which is permanent, but prohibitively expensive, and requires massive amounts of land and energy. Mote's technology addresses the shortfalls of natural and engineered solutions with a hybrid approach that answers the question of how the world gets to 10-billion-ton scale carbon removal.
As an example to fit today's real world alternatives being assessed, if a renewable energy developer combined a polymer electrolyte membrane water electrolysis hydrogen production plant with a solvent Direct Air Capture plant — to produce the same amount of Mote's hydrogen and CO2 — it would be four times more capital-intensive and nine times more land-intensive. We need an all-of-the-above approach to energy, and Mote fills a critically important gap.
.....
Our company has filed several different patents on our first-of-kind technology, which is a proprietary integrated process that combines proven commercial equipment. Already, we can remove close to 95% of the carbon in the biomass we process. Our bankable approach allows us to sign fixed-price hydrogen contracts with Fortune 500 companies, work alongside oil majors so they can geologically sequester our CO2, raise high percentages of project debt on even our first project, and get insurance companies to guarantee the output of our plants. As we enter our company's next stage, we will leverage our partnerships — with national labs, universities, and innovative companies — to advance our development of new catalysts and membranes to expand and further develop our new technology.
We have taken significant steps to be a first mover in this space and maintain our two-year lead on competitors. We are entering the Front-End Engineering Design (FEED/FEL-3) stage of our first project, in the California Central Valley. We've signed terms with a large international company to buy our hydrogen. We've signed terms with an oil major to store our CO2. We are using the woody biomass playbook of our Senior VP Resources, David Mittelstadt, who has successfully led procurement at million-ton-scale in the region for over a decade. We have just been recommended for invitation into the full due diligence process with the U.S. Department of Energy Loan Programs Office. We have also been awarded a California Department of Conservation grant with Sacramento Municipal Utility District, and are working on funding opportunities with National Renewable Energy Laboratory and Idaho National Laboratory. FEED/FEL-3 will enable us to reach Final Investment Decision and put shovels in the ground. Moving first with this technology will continue to unlock a trove of defensible patents as we become the first company to deploy and operate our groundbreaking technology.
Our company is unique in that our supply chains allow us to rapidly deploy at industrial scale. In the long term, Mote plants provide the optimal commercial-scale use and financial underpinning to seize this massive opportunity of converting wood waste into carbon-negative hydrogen. Our facilities will collocate with oil, gas, and mining majors to store carbon safely and integrate our clean hydrogen into their industrial processes.
Mote can grow to more than 1,000 utility-scale plants in the U.S. alone.
Source: LLNL. Carbon Negative by 2030: CO2 removal options for an early corporate buyer
We have assembled a diverse management team of the world's top experts in carbon removal, environmental law, wood waste, hydrogen, thermochemistry, project finance and execution. We are laser focused on becoming a landmark company, and we are driven by our values. Mote is motivated by the need to inclusively slow down climate change. Our company is committed to innovation and continuous improvement. We are building a strong organizational culture by being willing to embrace change and take calculated risks, prioritize long-term results over short-term gains, and continue building a strong leadership team. If you're interested in helping us achieve our mission, please drop us a line at motehydrogen.com.
Source: Medium