The power of youth movements
We at Reform Judaism are constantly

 

kvelling

 

about our incredible youth movement, RSY-Netzer, and how it provides life-changing opportunities for our young people to grow.

We can't take the credit but we would like to think it is more than a coincidence that the leadership skills learnt through RSY-Netzer played some part when RSY-Netzer

 

vatik

 

(alumnus) and Alyth Synagogue member, Dan Rosenfield, was

 

appointed as the Prime Minister's Chief of Staff

.

 

We send him our congratulations on his new role and wish him good luck - B'hatzlacha!

If you want your child to learn the same skills Dan did, sign them up to Course Hadracha, our highly regarded leadership training programme. Our intensive course gives those in Year 12 the skills to become a madrichol (leader) for RSY-Netzer and beyond!

 

Sign up here!




Reform Judaism Safeguarding Review
The Board of Reform Judaism strive to have in place the highest possible standards for safeguarding.  The Board of Reform Judaism has commissioned an Independent Review of Safeguarding; their statement regarding this can be read

 

on our website

.  This review is internal to Reform Judaism and will not review each Synagogue's respective safeguarding policy, procedure or practice. The Review is underway, carried out by Jim Dyson of

 

SAB Safeguarding

.

  Thank you to those of you who have already participated.  Jim would like to hold further focus groups for Chairs and DSLs – if you would like to participate please

 

email Alyson

 

who will contact you to arrange times.  If you would like to contribute to the Review individually, please

 

email Jim

, who will speak with you in confidence.  The deadline for getting involved is Friday 5th

 

December.
Rabbi Celia Surget

 

is quoted in

 

The Guardian

 

in an article representing the views of different faith groups towards gathering at Christmas.



The Jewish News

 

carried our piece about the first-ever service to commemorate 

International Transgender Day of Remembrance hosted by 

Edgware and Hendon Reform Synagogue.

 

Rabbi Debbie Young-Somers

 

is quoted.

Rabbi Jonathan Romain

 

writes a compelling argument in

 

The JC

 

explaining why it is both our civic and religious duty to report those who break the law during the lockdown even when it involves praying.

Rabbi Laura Janner-Klausner

 

is announced in

 

The JC

 

as chairing the Wingate Literary Prize

Student Rabbi Lev Taylor

 

uses the Biblical story of Jeremiah to explain why 77% of Jews in the US voted for Biden in

 

The Jewish News

.
On Friday 4th

 

December the Communities that Care Initiative meeting will be focused on planning for

 

Mental Health Awareness Shabbat,

 

which will be on 22nd

 

and 23rdJanuary.  Adam Ali, Lead Social Worker from JAMI, will be talking about why this year's event is particularly important and how we might make a meaningful impact online, as well as sharing how JAMI has been working through the pandemic.  If you are involved or wanting to be involved with Mental Health Shabbat in your community, please join us from 11.00 – 12.00 on Zoom

 

https://zoom.us/j/692270294
Makor Hayim are looking for a 2 day a week Community Co-ordinator, to work mainly from home. Please click here for more information and to apply.

Leo Baeck College is looking for someone to work closely with the Dean and other members of Senior Management Team, to support and monitor the vocational component of the rabbinic and CPD programmes of the Leo Baeck College. Please click here for more information and to apply.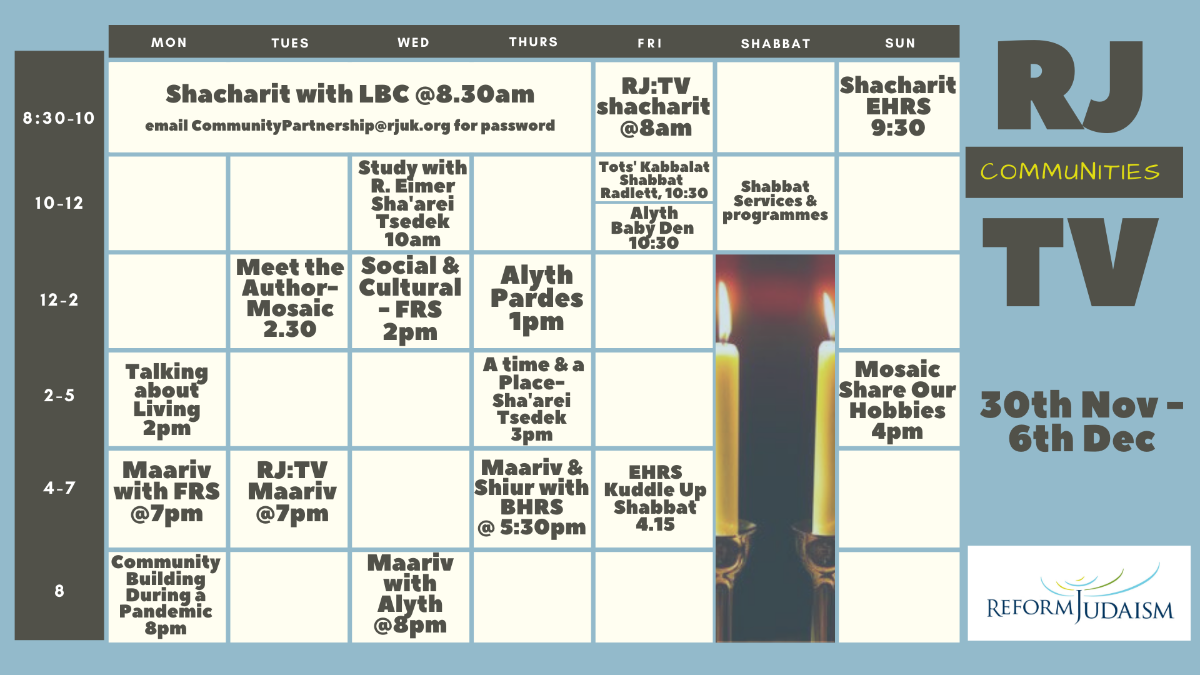 By clicking on the image above, you will be directed to a PDF with embedded links to each event as given to us by the communities. Some will be Zoom/ Facebook links and some are the shul's website with information about the links and passwords.
Alyth Synagogue
www.alyth.org.uk/alythonline.
***
Beth Shalom, Cambridge
Services by Zoom, led by a weekly-changing team of our members – contact ad...@beth-shalom.org.uk for links.
Every Shabbat morning at 10.30 a.m
Weekly Saturday night Havdalah at around 6pm
Kabbalat Shabbat at 6.30pm on the third Friday of the month
Plus weekly 'Parashat Hashavua' on Thursdays at 8pm
***
Brighton & Hove Reform Synagogue
www.bh-rs.org
Erev Shabbat Service at 6.30pm – join us as we bid farewell to the past week and welcome in Shabbat by streaming our service via Zoom.
Please contact the Synagogue office for log-in details.
Shabbat Services:
Shabbat Service at 10.30am –  Please contact the Synagogue office for log-in details.
Havdalah at 5pm every Saturday – Join our streaming service via Zoom.
Please contact the Synagogue office for log-in details.
Daily Weekday Services:
Shacharit every morning at 7.30am (Sundays to Fridays)
Go to: https://zoom.us/join   ~   type 790-285-615
Mincha every day at 2pm (Sundays to Fridays)
Go to: https://zoom.us/join   ~   type 571-620-138
Ma'ariv at 5.30pm (Sundays to Thursdays!)
Tuesday's Ma'ariv service is followed by Rabbi's weekly shiur
Go to: https://zoom.us/join   ~   type 258-315-566
Please contact the Synagogue Office on acco...@bh-rs.org for the relevant passwords.
For Children's services and Cheder, please contact: chede...@bh-rs.org
***
Bromley Reform Synagogue
www.bromleyshul.org.uk/
Hebrew for Beginners+ or Improvers (Dates & Times TBC)
A 10-week online course with Sarit Wilson Chen, an expert in GCSE Hebrew,  she teaches both biblical and modern Hebrew.  Sarit is also a former head-teacher of the Cheder at South London Liberal Synagogue and has been running Hebrew classes at BRS since 2019.
COST: £13 per lesson (£130.00 for a block of 10 classes course).
To join us or for more information, please email:  educ...@bromleyshul.org.uk
Shabbat Candle Lighting (Fridays at 7pm)
Join us on zoom https://us02web.zoom.us/j/578441665 to light candles, sing z'mirot, say kiddush and bless challah.
Shabbat Morning Service (Saturdays 10.30am)
YouTube channel https://www.youtube.com/c/BromleyReformSynagogue.
***
Edgware and Hendon Reform Synagogue
http://www.ehrs.uk/ (under community channel)
Please email ad...@ehrs.uk for Zoom details.
Neshamah Yoga (Saturday 28 November, 9:15-10:00)
Join Rabbi Mark and EHRS member and yoga teacher, Lisa Morris for a fusion of body, mind and spirituality with Yoga practices and Jewish wisdom to help you be ready for Shabbat. Neshamah (Hebrew for soul and breath) Yoga is accessible for anyone, whatever their yoga experience. No special clothing is required.
Shabbat for the Soul (Saturday 28 November, 10:30-12:00)
Rabbi Debbie is leading this Shabbat morning service using a selection from our regular prayers, poetry ancient and contemporary, silence, a contemplative reading of the Torah and the space to experience a special sense of rest (menuchah) on Shabbat. Join us on Zoom or the Learning and Soul Channel.
Let's Talk Employment Forum (Tuesday 1 December, 8-9.30pm)
Rabbi Mark and Val Joseph bring together an expert panel to lead a discussion about how we can deal positively with the employment situation today. These are tough times for all of us but especially for those of us who are worried about their own work or how they deal fairly with their colleagues and their own employees. As with all of our Let's Talk fora this is an opportunity for us to speak together as a community about big issues in our lives.
Chair Val Joseph, Head of Community Care and Wellbeing, EHRS
Victoria Sterman, Chief Executive of Resource
Emma May, Director of Operations and Employment, Work Avenue
Kim Davidson, Business Adviser, Work Avenue and EHRS member
Laurie Bernard, Employment Consultant and EHRS member
Donna Obstfeld, HR Consultant and EHRS member
Learning Series on the Body Part 3 (Thursday 3 December, 8-9:30pm)
Circumcision in Art: This fascinating illustrated talk is being given by Tim Hargreave, Urologist and adviser on circumcision for the prevention of AIDS to the World Health Organisation. He could be called the world's most prolific mohel having been responsible for several million circumcisions in East Africa through the WHO programme. Tim is the primary author of the WHO Manual of Male Circumcision technique. He will take us through the depiction of circumcision over the past four thousand years, its politics and polemics. Hosted on Zoom by Rabbi Mark with donation of £5 invited to World Aids Day during the talk, which will have been on 1 December.
Kuddle-Up Bedtime Stories
The Edgware and Hendon Reform Synagogue Young Families team, including our Rabbis, have recorded a short bed time story for seven nights. The perfect end to a lockdown day for all young children and the people who care for them! So Kuddle-Up and enjoy a story of Jewish meaning whenever you would like. Click here for the link to the EHRS YouTube channel to enjoy.
***
Finchley Reform Synagogue
www.frsonline.org
To join all meetings on: https://zoom.us/j/6861340661
(Meeting ID: 6861340661)
For further info and password, please contact: suzi....@frsonline.org
Religion and the Nation State Standing at the Crossroads (Wednesday 2 December 2pm)
Dr Ed Kessler MBE talks about the changing religious landscape in Europe, how belonging to a minority is becoming the norm, and how the increasing interdependence of the modern world means neither country nor religion is an island. Dr Kessler is founder director of the Woolf Institute, devoted to fostering understanding between religion and society through education. He is a fellow of St Edmunds college, Cambridge and a leading thinker in interfaith relations.
https://www.frs.org.uk/event/religion-and-the-nation-state-standing-at-the-crossroads.html#
Writing Our Stories (Wednesday 2 December, 7.30pm)
Join Barbara Elton and Michele Simmons for a monthly session of memoir writing and telling your stories. Have you considered writing the story of your life – or perhaps a family history? Maybe you want to tell the stories of relatives in your photo albums, or commit to paper your own early memories. Everyone is welcome, whether a seasoned writer or a novice. The sessions are run by Michele Simmons and Barbara Elton, both experienced journalists and writers. For further information email

 

susan....@frs.org.uk
https://www.frs.org.uk/event/writing-our-stories1.htmlKuddle

 

Up Shabbat, Fridays, 4.15pm
Join Rabbi Miriam and Tevye the Torahsaurus to bring in Shabbat every Friday
Tot Time – songs for pre-schoolers. (Tuesdays, 10.15am)
***
Kol Chai
https://www.kolchai.org/
The Human Rights Legacy of the Holocaust (Wednesday 9th December, 8-9pm)
Identifying & Preventing Genocide Today with Moses Seitler
Education and Community Engagement Officer at Rene Cassin: the Jewish voice for human rights
Join us on Zoom: https://us02web.zoom.us/j/87667444332; Meeting ID: 876 6744 4332
***
North West Surrey Synagogue
https://www.nwss.org.uk
Lifelong Learning presents 'Caught in the Cross Fire' (Wednesday 25th November, 7.30pm)
The Career of Yosef ben Mattitiyahu ha-Cohen aka T.Flavius Josephus
For details on how to join contact ad...@nwss.org.uk
***
Menorah Synagogue – Cheshire Reform Congregation
https://menorah.org.uk/
Opera @ Menorah (at selected Wednesdays 2pm)
2 December: Donizetti: Maria Stuarda
Click Here for further details and to book
***
Mosaic Reform Synagogue
https://choosemosaic.org/reform/
Mosaic Quiz (Sunday 29th November 4pm)
John Ashmele will present another on-line interactive tea-time quiz in the comfort of your own homes. The quiz should last no longer than one hour; you mark your own papers and there are sadly no prizes (boo!).
The financial Market today – a female view (Tuesday 1st December, 2.30pm)
Elissa Bayer, Senior Investment Director at Investec.
Meet the Lord Lieutenant for Hertfordshire (Sunday 6th December 4pm)
David Safir will introduce Robert Voss, CBE CStJ. He was awarded a CBE "for services to British Industry and voluntary work in the UK" in the New Year's Honours List of 2014 and was appointed Her Majesty's Lord-Lieutenant of Hertfordshire by The Queen in 2017, a position he will hold until 2028. Robert spent 40 years in the commodity business, was elected President of the British Metals Association at the age of 31 is a judge and mentor for Young Enterprise and has been a regular judge of The National Business Awards since 2006. HM the Queen appoints a Lord Lieutenant for each county on the advice of the Prime Minister, who consults widely in the county concerned. Lord Lieutenants cover all areas of the UK. The Lord Lieutenant of Hertfordshire is Her Majesty's representative within the county, and it is his first and foremost duty to uphold the dignity of the Crown. Lord Lieutenants are not political figures.
***
Radlett Reform Synagogue
https://www.radlettreform.org.uk/
watch us on https://www.radlettreform.org.uk/live or https://www.facebook.com/RadlettReform
Please contact off...@radlettreform.org.uk for zoom details.
Clergy Kavvanah Connect – (Monday, Wednesday, Friday)
Join a member of Radlett clergy at 11am on the synagogue website/Facebook
***
Sha'arei Tsedek North London Reform Synagogue
https://shaarei-tsedek.org.uk/
Join all sessions via www.stnl.rs/zoom
Start Your Week on a Positive Note (Mondays 12.45pm)
Join Therapist Ruth Dines and Rabbi Shulamit Ambalu for a short interactive mental health well-being session.
Key Questions and Covid: Responses from Jewish Texts with Rabbi Shulamit Ambalu (Mondays 8pm)
Explore key ideas in Jewish texts for addressing the challenges we face today.
Teatime Quiz  (Wednesdays, 2.30pm)
A Time and A Place Music Series with Rabbi James Baaden (Thursdays 3.00 pm)
Erev Mishpacha (Fridays, 4pm)
Join Rabbi Shulamit Ambalu for a heart-warming start to Shabbat, with candles, blessings, songs and a short activity together. Suitable for under 7's.
***
Sinai Synagogue, Leeds
www.sinaileeds.uk
Join our streamed services directly through the website:
Kabbalat Shabbat, Fridays 6:30pm;
Shabbat Morning, Saturday 10.30am
Sinai Book Club, (2nd Tuesday of the month @ 7pm)
December 8 – House of Gold/ Natasha Solomons
For zoom details please contact book...@sinaileeds.uk
Visit the website for Zoom details of weekly Kaddish and Kiddush and for more information about what's happening at Sinai.
***
South West Essex & Settlement Reform Synagogue (SWESRS)
swesrs.org.uk
Weird and Wonderful Gadgets (Wednesday December 9 @ 8:00-9:15 pm)
The Social and Community Group is delighted to be presenting Maurice Collins on-line talking about some of the items in his extraordinary collection and engaging you in the process of fathoming the functions of the gadgets on display. This will be an hour of enlightenment, humour and surprises!
Join Zoom Meeting: https://zoom.us/j/99314015923
Meeting ID: 993 1401 5923There is no charge for this event, but registration in advance is appreciated at www.ticketsource.co.uk/swesrs where a donation can also be made to the charity, CRISIS (supporting the homeless), if you so wish. All are most welcome! For further details contact ad...@swesrs.org.uk or 020 8599 0936
***
The Wimbledon Synagogue
https://www.wimshul.org/
Welcoming our New Rabbi this Shabbat (Friday 27 and Saturday 28 November)
We invite you to join us and our new Rabbi Adrian Schell for candle lighting and Shabbat services this Friday at 18.30 and Saturday at 10.30. Both services will be streamed on YouTube: https://www.youtube.com/c/WimbledonSynagogue.
To learn more about our vibrant Synagogue and our online services, please visit our website or contact our office on 0208 946 4836
Progressively Jewish is a collaboration between Liberal Judaism, Reform Judaism, and Leo Baeck College. What began as a daily podcast during Ellul is now a weekly podcast linked to the theme of the Torah portion.
You can find it wherever you normally find your podcasts, on 

Apple 

or on 

Spotify 
Copyright © 2020 The Movement for Reform Judaism, All rights reserved.

 


You are receiving this email because you are included on the Reform Judaism's database

 



Our mailing address is:

 




Want to change how you receive these emails?
You can

 

update your preferences

 

or

 

unsubscribe from this list