He's Baaaack
I was on vacation for more of August than I wasn't (a first, by the way). Now I'm back. Like some of you, I missed what was going on with GURPS this month. So this roundup is a refresher for me as well as you. Let's get started!
Recent Releases
We published two new GURPS-related products:
GURPS Template Toolkit 2: Races (August 1, 2019; PDF)
Almost every interesting game world has nonhumans. That includes ours – just ask a bear or one of those creepy stair-climbing robots. But fictional settings really pull out all the stops, featuring aliens, androids, elves, spirits, "toons," zombies, and much more. The tricky part? The GM has to design racial templates for all these beings . . . but thankfully, there's now a complete guide to the subject to help with that!
GURPS Social Engineering: Keeping in Contact (August 22, 2019; PDF)
The Contacts advantage – along with its big brother, Contact Group, as well as their crazy cousin, Contacts! – offers a lot of untapped potential. It's no secret that many GURPS players feel these traits are overpriced or underpowered. That's yesterday's news, because this treatment of the subject gives Contacts a much-needed shot in the arm, offering expanded rules to make them more interesting and additional applications to make them more useful.
While I'm at it, I want to mention that our friends at Amarillo Design Bureau also published some goodies for GURPS: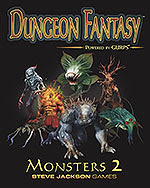 Dungeon Fantasy Roleplaying Game News
 
There have been two developments on this front:
 
     1. The physical copies of Dungeon Fantasy Monsters 2 are now in Austin!
     2. The Dungeon Fantasy Magic Items 2 Kickstarter opens next week. Be ready!
Upcoming Plans
Despite all that, we're still working on more. Here's my customary behind-the-scenes look, which comes with its customary warning: Nothing here is guaranteed. Delays happen. And yes, we keep secrets.
The seventh printing of GURPS Basic Set: Campaigns is on target for September.
The Pyramid Dungeon Collection hasn't been forgotten, and requires no further work that I know of.
GURPS Sorcery: Sound Spells, by Aleksei Isachenko and Garrett Norman, awaits its final edit and production.
GURPS High-Tech: Electricity and Electronics, by Bill Stoddard, remains queued for editing.
The final draft of the next GURPS Disasters volume, by James Howard, is in house and also awaiting editing.
The first draft of something else for the GURPS Vehicles series, by Phil Masters, is still is in the playtest queue.
The first draft of a new supplement in the GURPS Hot Spots series, by Randy Huegele, still awaits editorial review.
The first draft of the latest work from Christopher R. Rice, which shall remain unnamed for now, is also in house and awaiting editorial review.
As well, four projects are past the first-draft stage but have special needs that make me reluctant to say more at this time, and six more are in the design phase, including one I'm writing myself. If you're just itching to know what those are, or simply what's happening in the month between installments here, check the GURPS thread in my blog. I strive to update that before noon Central time on Friday.
GURPS PDF Archiving Initiative
 
Our efforts to convert older editions and printings of GURPS publications to digital form (PDF) continue. August was convention season, so we slowed down some, but I happen to know that there are two items just about ready to go for September, including one that devoted GURPS fans have been waiting a long time to see (hint: it's a licensed work).
Join Us! Join Us!
As all the "awaiting" and "in the queue" above should make clear, we're a little swamped, so we aren't seeking queries and proposals all that aggressively at this time. Eventually, though, we will be. This means it's a great time to become thoroughly familiar with our Submission Guidelines, the GURPS formatting guide, and the GURPS WYSIWYG template. Once you've done that, by all means check out the Warehouse 23 Digital Wish List (updated August 2, 2019) and Warehouse 23 Wish List for GURPS (updated August 2, 2019) to find out what we'd like to publish. We beg you to understand that unless you're one of our regular GURPS writers, we're unable to consider anything that isn't on those lists at this time. Thanks!