Summer Is Upon Us
. . . and it's warming up, at least in the Northern Hemisphere. Even in the Great White North, where your faithful GURPS Line Editor dwells in a new apartment. The move explains why the June report is a bit early: When life is in disarray, one must seize the time available! You're not here to read about that, though, but to find out what's happening with GURPS.
Recent Releases
We published two new GURPS-related products: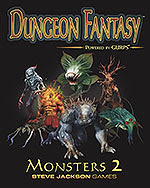 Dungeon Fantasy Monsters 2 (June 20, 2019; PDF)
When somebody says "Too many monsters!", you know they're a delver, because any gamer knows there's no such thing. In that spirit, here are 24 more monsters for the Dungeon Fantasy Roleplaying Game. Each gets a two-page spread that features full-color art, complete game stats, notes on using the creature in the game, and a couple of adventure seeds. And yes, with minimal effort, GURPS Dungeon Fantasy players can benefit as well. (If you prefer paper, the softcover book is at the printer . . . stay tuned for that.)
GURPS Dungeon Fantasy Treasures 3: Artifacts of Felltower (June 20, 2019; PDF)
A hack 'n' slash campaign cannot have too many treasures, either. This collection of rare and unique items comes from the mind – and campaign – of frequent GURPS Dungeon Fantasy contributor Peter V. Dell'Orto. Needless to say, this loot is anything but generic!
GURPS On Demand
 
As I mentioned last month, our editorial and production energies are currently focused on new stuff, like the two titles above. That means we have less time for our print-on-demand (POD) efforts – for the moment. Think of this as a breather during which you can visit the GURPS On Demand page and fill a few more holes in your collection.
Upcoming Plans
Our energies are indeed focused on growing the GURPS line, and now I'm going to prove it. The following projects are definitely making progress, though I cannot promise dates or even a specific release order. 'Tis summer, the season of conventions and vacations (and around here, relocations), so we must do what we can with what we've got.
Although the Pyramid Dungeon Collection remains in prepress, it really is nearly ready and should show up soon.
GURPS Monster Hunters: Power-Ups 1, by Christopher Rice, is essentially through production and looking strong for July.
GURPS Template Toolkit 2: Races, by Bill Stoddard, is through peer review and headed to production.
GURPS Sorcery: Sound Spells, by Aleksei Isachenko and Garrett Norman, awaits production.
We received the final draft of GURPS Social Engineering: Keeping in Contact, by Kelly Pedersen. That's queued for editing.
GURPS High-Tech: Electricity and Electronics, by Bill Stoddard, is through playtesting and with the author for a final draft.
The first draft of the next GURPS Disasters volume, by James Howard, entered playtesting.
The first draft of something else for the GURPS Vehicles series, this by Phil Masters, still needs an editorial review.
On top of all that, the long first draft I've been talking about remains in the review phase; seven items are now in the design stage (authors include David Pulver, Christopher Rice, Matt Riggsby, and me); and there are three or four things in the works that require sufficient problem-solving that I can't get specific. But who knows? I might just leak a clue about these or other matters in the GURPS thread in my blog, updated before noon Central time every Friday.
GURPS PDF Archiving Initiative
 
A lot of older editions and printings of GURPS content have never been converted to PDF. We're working to rectify that. This isn't a fancy venture with its own master web page, but I'm going to keep you posted in this space each month. June's offering was Floor Plan 1 – Haunted House.
Join Us! Join Us!
Queries and proposals continue to roll in; we have almost un embarras de richesses (I think that sounds better in the original French). In light of that, I'd like to remind would-be writers to become completely familiar with our Submission Guidelines, the GURPS formatting guide, and the GURPS WYSIWYG template before even thinking about contacting us. Then move on to the Warehouse 23 Digital Wish List (updated November 30, 2018) and Warehouse 23 Wish List for GURPS (updated November 30, 2018) to learn what we're looking for. If you've never written a GURPS supplement, that last part isn't optional – we must insist that you limit yourself to those lists. Thank you for understanding!