20 . . . 23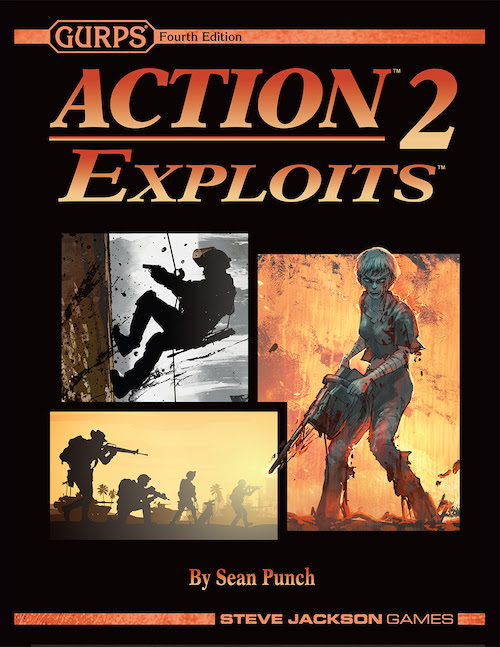 We like 23! Let's hope that it brings us good luck after, well, 19, 20, 21, and 22. As we wait for a sign (any day, now . . . any day), let's review what has happened for GURPS so far in the new year, and look at what's coming up.
Recent Releases
As with last month, our focus was on GURPS on Demand.
GURPS Action 2: Exploits (January 25, 2023; Paperback)
This isn't a new product, but it is now available in print. This handy guide condenses all the rules you need for modern-day investigation, sneaking, chases, fighting, and other thrilling activities into a simpler form specifically tailored to cinematic adventure. Forget about weighty tomes and endless page-flipping! Just jump straight into the action.
 
Everything Old Is New Again Department
 
GURPS on Demand isn't the only place to get printed versions of your favorite GURPS supplements. We sell through DriveThruRPG as well. Our latest offerings there are GURPS Action 2: Exploits, GURPS Monster Hunters 1: Champions, GURPS Monster Hunters 2: The Mission, and GURPS Monster Hunters 3: The Enemy.
Upcoming Plans
There was considerable progress behind the scenes this month! As usual, I cannot promise specifics beyond title and author, but I can share where each project is in our process.
I have half a dozen other balls in the air, too, but I cannot reveal information at this time. Will I relent and give up my secrets? Who knows! If I do, the place for that would be the GURPS thread in my blog, updated Fridays.
Join Us! Join Us!
Given the solid editorial and production progress this month, I'd say that queries and proposals might be welcome again after a very long time. My desire to keep these light on "crunch" (rules and stats) and heavy on "fluff" (descriptive material that could in theory work with any RPG) remains – as does my insistence that you stick to the Warehouse 23 Digital Wish List (updated November 3, 2022) and Warehouse 23 Wish List for GURPS (updated November 3, 2022). Also, please check out our Submission Guidelines, the GURPS formatting guide, and the GURPS WYSIWYG template before sending us anything.