follow along over the next week, and beyond for coverage of the Tevis Cup!


Tevis Cup Dispatches: Kelly, Cassidy, Jesse
It's a family affair for Kelly and her daughter Cassidy, and Kelly's husband Jesse.
Kelly has 1 Tevis buckle and Jesse has made one attempt.
This will be 12-year-old Cassidy's first Tevis but she is no slouch in the saddle. This enthusiastic horsewoman has over 1300 AERC endurance and LD miles, including 3 100-milers. (Can you say Big Horn 100?). Watch for her trotting out her mare Hope, who some of us would call Bitey McBiteFace. Kelly says the mare is all bluff in the trot-out, though.
---
Tevis Cup Dispatches: Sue Basham and Kismet Cognac
This 17 year old bay Arabian has finished Tevis 6 times with Sue (her fifth buckle earned her the Robie Cup) in 6 starts. The mare has over 3000 AERC miles, and Sue has over 5400. They prepped for this year's Tevis by finishing all 5 days of LDs at the challenging mountain ride of Spanish Peaks Pioneer in Colorado.
---
Tevis Cup Dispatches: Meg Sleeper and Sizedoesntmatter
Meg Sleeper and Sizedoesntmatter, owned by Gwen Hall
Meg has ridden internationally around the world on many of her home bred horses, and she has over 17,000 AERC miles, but this is Meg's first ride in the Tevis Cup. She's teaming up with Gwen's gelding Sizedoesntmatter (Dakar), who has finished Tevis 3 out of 32 times, in 8th, 2nd, and 4th place with Gwen. Meg rode Dakar for the rist time at the Spanish Peaks ride in Colorado in June.
Dakar has also finished first in his last 12 of 13 Endurance rides, and that includes the 2021 AERC Nat'l Championship 100 at Fort Howes in the searing heat. And remember the 2017 AERC Nat'l Championship 100 in Colorado? He and Gwen won that one too.
---
Tevis Cup Dispatches: The Meros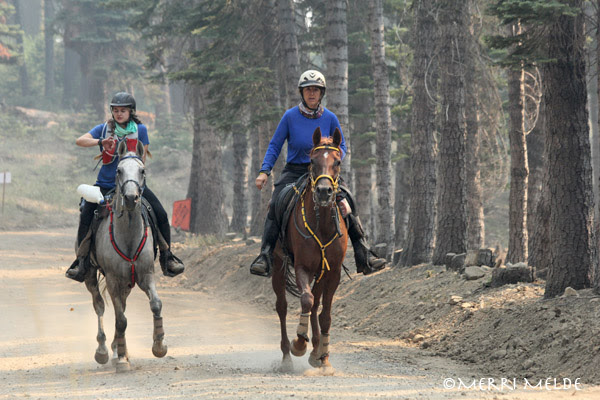 If you're betting on this year's winner, keep an eye on: The Mother-Daughter Mero team of Jeanette and Ozark Kaolina SWA, and Reyna and Chndakas Eklipse SW will contest the Tevis Cup together again. Finishing 6th and 7th last year, Jeanette's "Lena" went on to win the Haggin Cup (Best Condition) the next morning.
Lena has 2400 AERC miles, and has completed 7 rides this year as prep for the Tevis trail, including 3 wins and a Best Condition. Eklipse has completed 3 of 4 starts, including 2 seconds and a Best Condtion.